Renal Pathology & Electron Microscopy
Overview
The renal pathology division offers state of the art interpretation of native and transplant kidney biopsies. Our mission is to provide the best possible renal biopsy service working in close collaboration with nephrologists and transplant surgeons. The laboratory serves patients not only from the University of California San Francisco, but also from multiple other medical centers and many community practices in the San Francisco Bay Area and throughout the United States. Expert interpretation of the biopsies is performed by three dedicated renal pathologists (see Faculty) with decades of combined experience in renal pathology. Full service requests include tissue processing, light microscopy, immunofluorescence and electron microscopy evaluation with a comprehensive report of the findings and recommendations for the submitting clinician. Additional ancillary testing, including immunohistochemical stains and molecular studies are available as needed. Individual services (e.g. IF or EM) can be requested; please contact us for details. We are also happy to review and provide a second opinion on cases initially read at other institutions.
Faculty

Zoltan G. Laszik, MD, PhD
Renal Pathology & Electron Microscopy Medical Director
Professor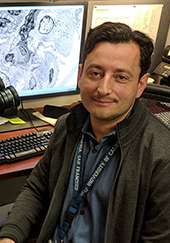 Anatoly Urisman, MD, PhD
Assistant Professor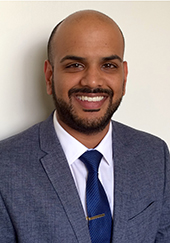 Vighnesh Walavalkar, MD
Assistant Clinical Professor
Renal Pathology & Electron Microscopy Services
For more information on how to submit a kidney biopsy or to request a consultation or technical service, please follow the links below.
Renal Biopsy Interpretation (full service)
We provide full light microscopy (LM), immunofluorescence (IF) and electron microscopy (EM) interpretation of native and allograft kidney biopsies.  We process your wet specimens on the day of receipt. Specimens received before 10 am are submitted as RUSH, with LM and IF evaluation performed on the same day. Specimen received after 10 am have LM and IF results available the following morning. EM is done on all native kidney biopsies, while transplant biopsies may or may not require EM based on the initial evaluation by a renal pathologist. We provide an initial impression based on LM and IF findings within 2 business days (within 24 hours in most cases). Unless requested otherwise, we will telephone the nephrologist listed on the requisition form to communicate the initial impression. EM studies may take up to 5 business days to complete, and significant new findings, if present, will also be reported by phone. Completed reports will be faxed and mailed to both the referring pathologist and nephrologist (please provide accurate contact information on the requisition form). Copies of immunofluorescence and electron microscopy digital images are available upon request. We are always available for questions and happy to review the findings via web conferencing (see Zoom Conferencing Instructions).
Renal Biopsy Interpretation (second opinion)
Review of slides, IF and EM images prepared at another institution, with or without additional services (special stains, IF or EM) as requested.
Immunofluorescence Services
We perform a wide range of IF stains with interpretation that can be requested for evaluation of renal biopsies as well as other tissues (e.g. lung for Good Pasture syndrome, skin for Alport syndrome, tissue biopsy for AL amyloid, etc.).
IF stains available on fresh tissue: IgG, IgM, IgA, Kappa, Lambda, C3, C1q, C4d, Fibrinogen, Albumin, IgG subsets (IgG1, IgG2, IgG3,IgG 4), PLA2R, Alport panel (COL4A2, COL4A5), polyomavirus (SV40/BK/JC).
IF stains available on FFPE tissue – IgG, IgM, IgA, Kappa, Lambda
Electron Microscopy Services
In addition to EM evaluation of renal biopsies, we perform EM studies on other tissues, including respiratory epithelium for ciliary dyskinesia syndromes, peripheral blood buffy coats for ceroid lipofuscinosis and other lysosomal storage disorders, platelets for platelet storage pool deficiencies, and duodenal biopsies for microvillous inclusion disease and other neonatal enteropathies. Please contact us for further details or to enquire about other special requests.
Amyloid Typing
FFPE blocks positive for amyloid by Congo red staining can be submitted for amyloid typing. The workup will include IF stains for Kappa and Lambda light chains (AL amyloid) and immunohistochemical (IHC) stains for serum amyloid A (SAA), transthyretin (TTR), and LECT2.