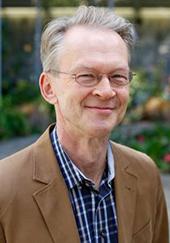 Timothy H. McCalmont, MD
Professor of Clinical Pathology and Dermatology; Co-Director, UCSF Dermatopathology Service
Pathology
UCSF
Pathology, Box 1790
1701 Divisadero Street, Suite 280
San Francisco, CA 94143
United States
Research and Clinical Interests
My interest is the advancement of diagnostic dermatopathology. Our unit is particularly active as a bridge between conventional microscopy and molecular methods. In the realm of cutaneous lymphoma, we provide comprehensive consultation and classification using both immunophenotyping and genotyping as diagnostic supplements. We also provide consultative diagnoses for a large volume of melanocytic neoplasms and are active in the utilization of comparative genomic hybridization (CGH) and fluorescence in-situ hybridization (FISH). I also serve as the Editor of the Journal of Cutaneous Pathology.
Selected Publications
Haemel A, Fox L, McCalmont TH. Keratinocyte-derived amyloidosis as a manifestation of chronic graft-versus-host disease. J Cutan Pathol. 2013 Mar;40(3):292-4. doi: 10.1111/cup.12105. PubMed PMID: 23899263.
McCalmont TH. Whither bowenoid papulosis? J Cutan Pathol. 2013 Feb;40(2):209-10. doi: 10.1111/cup.12083. PubMed PMID: 23336842.
Hall BJ, Pincus LB, Yu SS, Oh DH, Wilson AR, McCalmont TH. Immunohistochemical prognostication of Merkel cell carcinoma: p63 expression but not polyomavirus status correlates with outcome. J Cutan Pathol. 2012 Oct;39(10):911-7. doi: 10.1111/j.1600-0560.2012.01964.x. Epub 2012 Aug 6. PubMed PMID: 22882157.
McCalmont TH. Caveat emptor. J Cutan Pathol. 2012 May;39(5):479-80. doi: 10.1111/j.1600-0560.2012.01923.x. PubMed PMID: 22515219.
Yeh I, Argenyi Z, Vemula SS, Furmanczyk PS, Bouffard D, McCalmont TH. Plexiform melanocytic schwannoma: a mimic of melanoma. J Cutan Pathol. 2012 May;39(5):521-5. doi: 10.1111/j.1600-0560.2011.01856.x. Epub 2012 Mar 15. PubMed PMID: 22416678.
Awards
1990 Century Club, Department of Pathology , Wake Forest University Medical Center
1994 Teacher of the Year, Department of Dermatology, UCSF
2002 Teacher of the Year, Department of Dermatology, UCSF
2005 Teacher of the Year, Department of Dermatology, UCSF