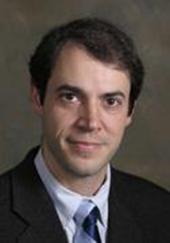 Scott C. Kogan, MD
Professor; Chief, UCSF Clinical Hematology Laboratory, Moffitt-Long Hospitals; Director, UCSF Hematopathology Fellowship Program; Director, UCSF Helen Diller Family Comprehensive Cancer Center, Mouse Pathology Core
Laboratory Medicine
UCSF
Laboratory Medicine, Box 0451
513 Parnassus Avenue, Room S-561
San Francisco, CA 94143
United States
Hospital Affiliations
UCSF Parnassus Heights
UCSF Mount Zion
Other UCSF Organizational Association(s)
UCSF Comprehensive Cancer Center, Hematopoietic Malignancies Program
UCSF Biomedical Sciences Graduate Program
Research and Clinical Interests
The Kogan laboratory aims understand the pathogenesis of acute leukemias and to apply this understanding to extend survival for patients with leukemias and other malignancies. Our scientific focus is to comprehend the alterations in cell fate decisions that govern the transformation of normal hematopoietic cells into AML or ALL. We work to identify genetic changes that contribute to leukemia, delineate how genetic changes combine at the cellular and molecular levels to cause transformation and develop improved treatments using molecularly targeted therapeutics. Clinically Dr. Kogan has a strong interest in the biology and medicine of thrombosis and hemostasis.
Selected Publications
Lee, YJ; Jones, LC; Timchenko, NA; Perrotti, D; Tenen, DG; Kogan, SC. CCAAT/enhancer binding proteins alpha and epsilon cooperate with all-trans retinoic acid in therapy but they differ in their anti-leukemic activities. Blood, 2006, 108:2416-2419.
Lee, BD; Sevcikova, S; Kogan, SC. Dual treatment with FLT3 inhibitor SU11657 and doxorubicin increases survival of leukemic mice. Leuk Res, 2007 31:1139-1142.
Zuber, J; Radtke, I; Pardee, T; Zhao, Z; Rappaport AR; Luo, W; McCurrach, ME; Yang, M; Dolan, E; Kogan, SC; Downing, JR; Lowe, SW. Mouse models of human AML accurately predict chemotherapy response. Genes Dev, 2009, 23:877-889.
Lauchle, JO; Kim, D; Le, DT; Akagi, K; Crone, M; Krisman, K; Warner, K; Bonifas, JM; Li, Q; Coakley, KM; Diaz-Flores, E; Gorman, M; Przybranowsk,i S; Tran, M; Kogan, SC; Roose, JP; Copeland, NG; Jenkins, NA; Parada, L; Wolff, L; Sebolt-Leopold, J; Shannon, K. Response and resistance to MEK inhibition in leukaemias initiated by hyperactive Ras. Nature, 2009, 461:411-414.
Zhao, Z; Zuber, J; Diaz-Flores, E; Lintault, L; Kogan, SC; Shannon, K; Lowe, SW. p53 loss promotes acute myeloid leukemia by enabling aberrant self-renewal. Genes Dev, 2010, 24:1389-1402.
Awards
2001: Recipient, Medical Student Teaching Award, Excellence for Small Group Instruction
2003: Resident Teaching Award, Department of Laboratory Medicine
2004-09: Leukemia & Lymphoma Society Scholar Award
2007: Mentor Award, UCSF Department of Pediatrics