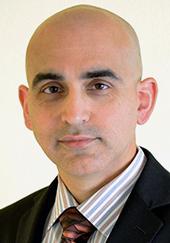 Sanjay Kakar, MD
Professor of Pathology, University of California, San Francisco; Director, GI-Hepatobiliary Pathology Fellowship Program; Chief, GI-Hepatobiliary Pathology Service
Pathology
Specialty Areas
Surgical Pathology
Gastrointestinal Pathology
Liver Pathology
Pancreatobiliary Pathology
Genitourinary Pathology
Thoracic Pathology
UCSF
Department of Pathology, Box 0102
505 Parnassus Avenue, Room M545
San Francisco, CA 94143
United States
Hospital Affiliations
UCSF Parnassus Heights
San Francisco VA Health Care System
Research and Clinical Interests
GI/liver/pancreatic pathology. Methylation and MSI in colorectal polyps and cancer. Staging of GI and hepatobiliary cancers. Appendiceal neoplasms. Genetic changes in hepatic adenoma, HCC, fibrolamellar HCC, cholangiocarcinoma.
Selected Publications
Evason KJ, Grenert JP, Ferrell LD, Kakar S. Atypical hepatocellular adenoma-like neoplasms with β-catenin activation show cytogenetic alterations similar to well-differentiated hepatocellular carcinomas. Hum Pathol. 44(5):750-8.
Gregor K, Jain D, Wu TT, Yeh MM, Torbenson M, Kakar S. Immunohistochemical pitfalls in the diagnosis of scirrhous hepatocellular carcinoma. Mod Pathol. 2013;26(6):782-91.
Hale G, Liu X, Hu J, Xu Z, Che L, Solomon D, Tsokos C, Shafizadeh N, Chen X, Gill R, Kakar S. Correlation of exon 3 β-catenin mutations with glutamine synthetase staining patterns in hepatocellular adenoma and hepatocellular carcinoma. Mod Pathol. 2016;29(11):1370-1380.
Wen KW, Grenert JP, Joseph NM, Shafizadeh N, Huang A, Hosseini M, Kakar S. Genomic profile of appendiceal goblet cell carcinoid is distinct compared to appendiceal neuroendocrine tumor and conventional adenocarcinoma. Hum Pathol. 2018;77:166-174.
Yan Z, Grenert JP, Joseph NM, Ren C, Chen X, Shafizadeh N, Kakar S. Hepatic angiomyolipoma: mutation analysis and immunohistochemical pitfalls in diagnosis. Histopathology. 2018;73(1):101-108.
Awards
2006: Teacher of the Year, UCSF Anatomic Pathology
2012-2013: President, Gastrointestinal Pathology Society
2013-now: Member and Lead Author of lower GI and hepatobiliary cancer protocols, Cancer Committee, College of American Pathologists
2014-15: Member, AJCC panels for staging updates of lower GI and hepatobiliary cancers
2016-now: Vice president, Hans Popper Hepatopathology Society
2018-now: President, Hans Popper Hepatopathology Society