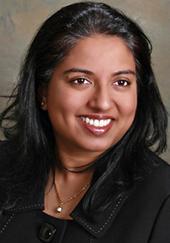 Raga Ramachandran, MD, PhD
Professor & Director of Medical Education; Endowed Chair in Pathology Medical Student Education, Haile T. Debas/UCSF Academy of Medical Educators; Co-Director, Ground School block, UCSF School of Medicine Bridges curriculum
Pathology
Specialty Areas
Surgical Pathology
Liver Pathology
Gastrointestinal Pathology
UCSF
Pathology, Box 0102
513 Parnassus Avenue, Room S-564A
San Francisco, CA 94143
United States
Other UCSF Organizational Association(s)
Departmental Career Advisor, UCSF School of Medicine
Faculty Advisor, Pathology Student Interest Group
Research and Clinical Interests
My clinical work is in diagnostic surgical pathology with an emphasis on liver and gastrointestinal disease. I review in-house biopsy and surgical cases and am part of the Liver/GI consultation service. I am the San Francisco site pathologist for the Hepatitis B Research Network, a consortium of hospitals with expertise in caring for those with chronic hepatitis B virus infection, approximately 0.3-0.5% of US residents. I am interested in how digital pathology and other remote learning resources impact the educational experience for our learners.
Selected Publications
Tanaka KS and Ramachandran R. Perceptions of a Remote Learning Pathology Elective for Advanced Clinical Medical Students. Acad Pathol. 2021 Jan-Dec; 8. Published online 2021 Apr 23. doi: 10.1177/23742895211006846.
Khalili M, Kleiner DE, King WC, Sterling RK, Ghany M, Chung RT, Bhan A, Rosenthal P, Lisker-Melman M, Ramachandran R, Lok AS and the Hepatitis B Research Network (HBRN). Hepatic Steatosis and Steatohepatitis in a Large North American Cohort of Adults with Chronic Hepatitis B. Am J Gastroenterol. 2021 Apr 8. doi: 10.14309/ajg.0000000000001257.