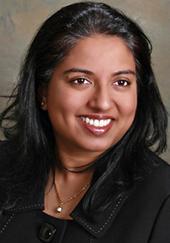 Raga Ramachandran, MD, PhD
Associate Professor & Director of Medical Education; Endowed Chair in Pathology Medical Student Education, Haile T. Debas/UCSF Academy of Medical Educators; Co-Director, Ground School block, UCSF School of Medicine Bridges curriculum
Pathology
Specialty Areas
Surgical Pathology
Liver Pathology
Gastrointestinal Pathology
Thoracic Pathology
UCSF
Pathology, Box 0102
513 Parnassus Avenue, Room S-564A
San Francisco, CA 94143
United States
Other UCSF Organizational Association(s)
Departmental Career Advisor, UCSF School of Medicine
Faculty Advisor, Pathology Student Interest Group
Research and Clinical Interests
My clinical work is in diagnostic surgical pathology with an emphasis on liver and gastrointestinal disease. I review in-house biopsy and surgical cases and am part of the Liver/GI consultation service. I am the San Francisco site pathologist for the Hepatitis B Research Network, a consortium of hospitals with expertise in caring for those with chronic hepatitis B virus infection, approximately 0.3-0.5% of US residents. My education research currently focuses on the impact of the Academy of Medical Educators endowed chair program on former holders of these chair positions.
Selected Publications
Zhang Y, Yang L, MacKenzie JD, Ramachandran R, Chen DZ. A seeding-searching-ensemble method for gland segmentation in H&E-stained images. BMC Med Inform Decis Mak. 2016 Jul 21;16 Suppl 2:80. doi: 10.1186/s12911-016-0312-5.
Phelps A, Ramachandran R, Courtier J, Perito E, Rosenthal P, MacKenzie JD. Ultrasound elastography: is there a shear wave speed cutoff for pediatric liver fibrosis and inflammation? Clin Imaging. 2016 Oct 17; 41:95-100. PMID: 27840268
Perito E, Vase T, Ramachandran R, Phelps A, Jen KY, Lustig R, Feldstein V, Rosenthal P. Hepatic steatosis after pediatric liver transplant. Liver Transpl. 2017 Jul;23(7):957-967.
Choi WT, Ramachandran R, Kakar S. Immunohistochemical approach for the diagnosis of a liver mass on small biopsy specimens. Hum Pathol. 2017 Jan 10. pii: S0046-8177(17)30014-X.