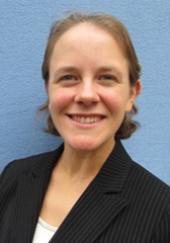 Nancy Yerkes Greenland, MD, PhD
Assistant Professor
Pathology
Specialty Areas
Cytopathology
Genitourinary Pathology
Hospital Affiliations
San Francisco VA Health Care System
Research and Clinical Interests
Cytopathology and genitourinary pathology.
Selected Publications
Nancy Y. Greenland, Li Zhang, Janet Cowan, Peter R. Carroll, Bradley A. Stohr, Jeffry P. Simko. Correlation of a Commercial Genomic Risk Classifier with Histologic Patterns in Prostate Cancer. The Journal of Urology 2019 Jul; 202(1): 90-95. PMID 30810466.
John R. Greenland, Ping Wang, Joshua J. Brotman, Rahul Ahuja, Tiffany A. Chong, Mary Ellen Kleinhenz, Lorriana E. Leard, Jeffrey A. Golden, Steven R. Hays, Jasleen Kukreja, Jonathan P. Singer, Kirk Jones, Zoltan Lasik, Neil N. Trivedi, Nancy Y. Greenland, Paul Blanc. Gene signatures common to allograft rejection are associated with lymphocytic bronchitis. Clinical Transplantation 2019 May; 33(5). PMID: 30849195.
Cristina L. Abrahams, Xiaofan Li, Millicent Embry, Abigail Yu, Stellanie Krimm, Sarah Krueger, Nancy Y. Greenland, Kwun Wah Wen, Christopher Jones, Venita DeAlmeida, Willy A. Solis, Shannon Matheny, Toni Kline, Alice Y. Yam, Ryan Stafford, Arun P. Wiita, Trevor Hallam, Mark Lupher, Arturo Molina. Targeting CD74 in multiple myeloma with the novel, site-specific antibody-drug conjugate STRO-001. Oncotarget 2018 Dec; 9(102): 37700-37714. PMID 30701025.
Su-Yang Liu, Nancy Joseph, Ajay Ravindranathan, Bradley Stohr, Nancy Greenland, Poonam Vohra, Elizabeth Hosfield, Iwei Yeh, Eric Talevich, Courtney Onodera, Jessica Van Ziffle, James P. Grenert, Boris Bastian, Yunn-Yi Chen, and Gregor Krings. Genomic profiling of malignant phyllodes tumors reveals aberrations in FGFR1 and PI-3 kinase/RAS signaling pathways and provides insights into intratumoral heterogeneity. Modern Pathology 2016 Sep; 29(9): 1012-1027. PMID: 27255162.
Hyang-Yeol Lee, Nancy Yerkes, Peter Bernhardt, Sarah E. O'Connor. Aza-tryptamine substrates in natural product biosynthesis. Chemistry and Biology 2009 Dec; 16(12): 1225-1229. PMID: 20064432.
Peter Bernhardt*, Nancy Yerkes*, Sarah E. O'Connor. Bypassing stereoselectivity in the early steps of alkaloid biosynthesis. Organic and Biomolecular Chemistry 2009 Oct; 7(20): 4166-4168. PMID: 19795053. (*co-first authors).
Nancy Yerkes, Jia Xin Wu, Elizabeth McCoy, M. Carmen Galan, Shi Chen, Sarah E. O'Connor. Substrate specificity and diastereoselectivity of strictosidine glucosidase, a key enzyme in monoterpene indole alkaloid biosynthesis. Bioorganic and Medicinal Chemistry Letters 2008 May; 18(10): 3095-3098. PMID: 18061449.
Wenjun Zhou, Nancy Yerkes, Jason J. Chruma, Lei Lu, Ronald Breslow. Chiral polyamines from reduction of polypeptides: asymmetric pyridoxamine-mediated transaminations. Bioorganic and Medicinal Chemistry Letters 2005 Mar; 15(5): 1351-1355. PMID: 15713385.
Awards
Graduated magna cum laude with Departmental Honors in Chemistry, Columbia College, Columbia University, May 2005.
Jean Dreyfuss Boussevain Undergraduate Scholarship for Excellence in Chemistry, Columbia University, May 2005.
Dean's List, all eight semesters, Columbia College, Columbia University, September 2001 - May 2005.