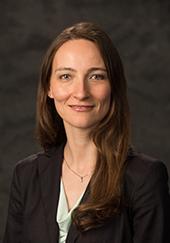 Melike Pekmezci, MD
Associate Professor of Pathology and Ophthalmology
Pathology
Division
Surgical Pathology
Neuropathology
Specialty Areas
Surgical Pathology
Neuropathology
Ophthalmic Pathology
UCSF
Pathology, Box 0102
505 Parnassus Avenue, Room M-551
San Francisco, CA 94143
United States
Hospital Affiliations
UCSF Parnassus Heights
UCSF Mission Bay
San Francisco VA Health Care System
Research and Clinical Interests
My clinical activities include Ophthalmic Pathology and Surgical Neuropathology at UCSF and Surgical Pathology and Cytopathology at San Francisco VA Medical Center. I am primarily involved in translational research with specific focus on diagnostic and prognostic markers of CNS neoplasms. I have been particularly interested in molecular classification and grading schemes of diffuse gliomas. I am also interested in diagnostic and molecular markers of ocular surface neoplasms and melanocytic lesions.
Selected Publications
Han LM, Lee KW, Uludag G, Seider MI, Afshar AR, Bloomer MM, Pekmezci M. Prognostic Value of BAP1 and Preferentially Expressed Antigen in Melanoma (PRAME) Immunohistochemistry in Uveal Melanomas. Mod Pathol. 2023 Jan 10; 36(4):100081. PMID: 36788079.
Solomon DA, Ramani B, Eiger-Moscovich M, Milman T, Uludag G, Crawford JB, Phan I, Char DH, Shields CL, Eagle RC, Bastian BC, Bloomer MM, Pekmezci M. Iris and ciliary body melanocytomas are defined by solitary GNAQ mutation without additional oncogenic alterations. Ophthalmology. 2022 Dec;129(12):1429-1439. PMID: 35835335.
Pekmezci M, Morshed RA, Chunduru P, Pandian B, Young J, Villanueva-Meyer JE, Tihan T, Sloan EA, Aghi MK, Molinaro AM, Berger MS, Hervey-Jumper SL. Detection of glioma infiltration at the tumor margin using quantitative stimulated Raman scattering histology. Sci Rep. 2021 Jun 09; 11(1):12162. PMID: 34108566. PMCID: PMC8190264
Cadwell CR, Yuksek GE, Hirbe AC, Srihari D, LeBoit P, Dahiya S, Pekmezci M. Preferentially Expressed Antigen in Melanoma (PRAME) Expression in Malignant, but Not Benign, Peripheral Nerve Sheath Tumors. J Neuropathol Exp Neurol. 2021;80(4):384-386. PMID: 33212492.
Afshar AR*, Pekmezci M*, Bloomer MM, Cadenas NJ, Stevers M, Banerjee A, Roy R, Olshen AB, Van Ziffle J, Onodera C, Devine WP, Grenert JP, Bastian BC, Solomon DA, Damato BE. Next-Generation Sequencing of Retinoblastoma Identifies Pathogenic Alterations beyond RB1 Inactivation That Correlate with Aggressive Histopathologic Features. Ophthalmology.2020 Jun;127(6):804-813. PMID: 32139107. PMCID: PMC7246167.
Pekmezci M, Villanueva-Meyer JE, Goode B, Van Ziffle J, Onodera C, Grenert JP, Bastian BC, Chamyan G, Maher OM, Khatib Z, Kleinschmidt-DeMasters BK, Samuel D, Mueller S, Banerjee A, Clarke JL, Cooney T, Torkildson J, Gupta N, Theodosopoulos P, Chang EF, Berger M, Bollen AW, Perry A, Tihan T, Solomon DA. The genetic landscape of ganglioglioma. Acta Neuropathol Commun. 2018; 6(1):47. PMID: 29880043. PMCID: PMC5992851.
Pekmezci M, Stevers M, Phillips JJ, Van Ziffle J, Bastian BC, Tsankova NM, Kleinschmidt-DeMasters BK, Rosenblum MK, Tihan T, Perry A, Solomon DA. Multinodular and vacuolating neuronal tumor of the cerebrum is a clonal neoplasm defined by genetic alterations that activate the MAP kinase signaling pathway. Acta Neuropathol. 2018;135(3):485-488. PMID: 29428973.