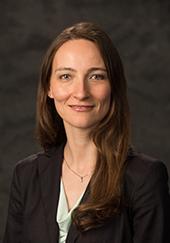 Melike Pekmezci, MD
Associate Professor of Pathology and Ophthalmology
Pathology
Division
Surgical Pathology
Neuropathology
Specialty Areas
Surgical Pathology
Neuropathology
Ophthalmic Pathology
UCSF
Pathology, Box 0102
505 Parnassus Avenue, Room M-551
San Francisco, CA 94143
United States
Hospital Affiliations
UCSF Parnassus Heights
UCSF Mission Bay
San Francisco VA Health Care System
Research and Clinical Interests
My clinical activities include Ophthalmic Pathology and Surgical Neuropathology at UCSF and Surgical Pathology and Cytopathology at San Francisco VA Medical Center. I am primarily involved in translational research with specific focus on diagnostic and prognostic markers of CNS neoplasms. I have been particularly interested in molecular classification and grading schemes of diffuse gliomas. I am also interested in diagnostic and molecular markers of ocular surface neoplasms and melanocytic lesions.
Selected Publications
Pekmezci M, Villanueva-Meyer JE, Goode B, Van Ziffle J, Onodera C, Grenert JP, Bastian BC, Chamyan G, Maher OM, Khatib Z, Kleinschmidt-DeMasters BK, Samuel D, Mueller S, Banerjee A, Clarke JL, Cooney T, Torkildson J, Gupta N, Theodosopoulos P, Chang EF, Berger M, Bollen AW, Perry A, Tihan T, Solomon DA. The genetic landscape of ganglioglioma. Acta Neuropathol Commun. 2018; 6(1):47. PMID: 29880043. PMCID: PMC5992851.
Pekmezci M, Stevers M, Phillips JJ, Van Ziffle J, Bastian BC, Tsankova NM, Kleinschmidt-DeMasters BK, Rosenblum MK, Tihan T, Perry A, Solomon DA. Multinodular and vacuolating neuronal tumor of the cerebrum is a clonal neoplasm defined by genetic alterations that activate the MAP kinase signaling pathway. Acta Neuropathol. 2018;135(3):485-488. PMID: 29428973.
Pekmezci M, Cuevas-Ocampo AK, Perry A, Horvai AE. Significance of H3K27me3 loss in the diagnosis of malignant peripheral nerve sheath tumors. Mod Pathol. 2017;30(12):1710-1719. PMID: 28776579.
Pekmezci M, Rice T, Molinaro AM, Walsh KM, Decker PA, Hansen HM, Sicotte H, Kollmeyer TM, McCoy LS, Sarkar G, Perry A, Giannini C, Tihan T, Berger MS, Wiemels JL, Bracci PM, Eckel-Passow JE, Lachance DH, Clarke J, Taylor JW, Luks T, Wiencke JK, Jenkins RB, Wrensch MR. Adult Infiltrating Gliomas with WHO 2016 Integrated Diagnosis: Additional Prognostic Roles of ATRX and TERT. ACTA Neuropathologica. 2017;133(6):1001-1016. PMID: 28255664. PMCID: PMC5432658.
Pekmezci M, Uysal SP, Orhan Y, Tihan T, Lee HS. Pitfalls in the use of whole slide imaging for the diagnosis of central nervous system tumors: A pilot study in surgical neuropathology. J Pathol Inform. 2016; 7:25. PMID: 27217975.
Pekmezci M, Nelson J, Su H, Hess C, Lawton MT, Sonmez M, Young WL, Kim H, Tihan T. Morphometric characterization of brain arteriovenous malformations for clinical and radiological studies to identify silent intralesional microhemorrhages. Clin Neuropathol. 2016; 35(3):114-21. PMID: 27049066.
Eckel-Passow JE, Lachance DH, Molinaro AM, Walsh KM, Decker PA, Sicotte H, Pekmezci M, Rice T, Kosel ML, Smirnov IV, Sarkar G, Caron AA, Kollmeyer TM, Praska CE, Chada AR, Halder C, Hansen HM, McCoy LS, Bracci PM, Marshall R, Zheng S, Reis GF, Pico AR, O'Neill BP, Buckner JC, Giannini C, Huse JT, Perry A, Tihan T, Berger MS, Chang SM, Prados MD, Wiemels J, Wiencke JK, Wrensch MR, Jenkins RB. Glioma Groups Based on 1p/19q, IDH, and TERT Promoter Mutations in Tumors. N Engl J Med. 2015; 372(26):2499-508. PMID: 26061753.
Pekmezci M, Reuss DE, Hirbe AC, Dahiya S, Gutmann DH, von Deimling A, Horvai AE, Perry A. Morphologic and immunohistochemical features of malignant peripheral nerve sheath tumors and cellular schwannomas. Mod Pathol. 2015; 28(2):187-200. PMID: 25189642.