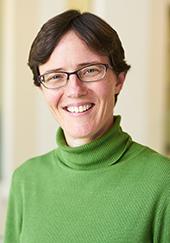 Joanna J. Phillips, MD, PhD
Professor of Neurological Surgery and Pathology; Director of the Brain Tumor Center Biorepository and Pathology Core
Pathology
UCSF
Pathology, Box 0520
1450 3rd Street, Room HD492B
San Francisco, CA 94158
United States
Other UCSF Organizational Association(s)
Biomedical Graduate Group
Brain Tumor Research Center (BTRC); Neuropathology BTRC Biomarkers Laboratory
UCSF Helen Diller Family Comprehensive Cancer Center
Research and Clinical Interests
The long term goal of our laboratory is to improve outcomes for brain tumor survivors. To do this we take two strategies. First, we investigate mechanisms of tumor progression and invasion in glioma. A major focus is on the interplay between tumor cells and components of the tumor microenvironment. We use both in vivo and ex vivo model systems to model these interactions. Second, we develop biomarkers to better stratify patients for maximal therapeutic efficacy.
Selected Publications
Ohkawa Y, Wade A, Lindberg OR, Chen KY, Tran VM, Brown SJ, Kumar A, Kalita M, James CD, Phillips JJ. Heparan sulfate synthesized by Ext1 regulates receptor tyrosine kinase signaling and promotes resistance to EGFR inhibitors in GBM. Mol Cancer Res. 2020 Oct 7:molcanres.0420.2020. doi: 10.1158/1541-7786.MCR-20-0420. PMID: 33028660.
Molinaro AM, Hervey-Jumper S, Morshed RA, Young J, Han SJ, Chunduru P, Zhang Y, Phillips JJ, Shai A, Lafontaine M, Crane J, Chandra A, Flanigan P, Jahangiri A, Cioffi G, Ostrom Q, Anderson JE, Badve C, Barnholtz-Sloan J, Sloan AE, Erickson BJ, Decker PA, Kosel ML, LaChance D, Eckel-Passow J, Jenkins R, Villanueva-Meyer J, Rice T, Wrensch M, Wiencke JK, Oberheim Bush NA, Taylor J, Butowski N, Prados M, Clarke J, Chang S, Chang E, Aghi M, Theodosopoulos P, McDermott M, Berger MS. Association of Maximal Extent of Resection of Contrast-Enhanced and Non-Contrast-Enhanced Tumor With Survival Within Molecular Subgroups of Patients With Newly Diagnosed Glioblastoma. JAMA Oncol. 2020 Feb 6. doi: 10.1001/jamaoncol.2019.6143. PMID: 32027343.
Wang L, Babikir H, Mueller S, Yagnik G, Shamardani K, Catalan F, Kohanbash G, Alvarado B, Di Lullo E, Kriegstein A, Shah S, Wadhwa H, Chang S, Phillips JJ, Aghi M, and Diaz A. The phenotypes of proliferating glioblastoma cells reside on a single axis of variation. Cancer Discov. 2019 Dec;9(12):1708-1719. doi: 10.1158/2159-8290.CD-19-0329. Epub 2019 Sep 25. PMID:31554641.
McKinney A, Lindberg OR, Engler JR, Chen KY, Kumar A, Gong H, Lu KV, Simonds EF, Cloughesy TF, Liau LM, Prados M, Bollen AW, Berger MS, Shieh JTC, James CD, Nicolaides TP, Yong WH, Lai A, Hegi ME, Weiss WA, Phillips JJ. Mechanisms of resistance to EGFR inhibition reveal metabolic vulnerabilities in human GBM. Mol Cancer Ther. 2019 Jul 3. pii: molcanther.1330.2018. doi: 10.1158/1535-7163.MCT-18-1330. PubMed PMID: 31270152. PMC6726545. Selected by journal to be highlighted.
Phillips JJ, Gong H, Chen K, Joseph NM, van Ziffle J, Bastian BC, Grenert JP, Kline CN, Mueller S, Banerjee A, Nicolaides T, Gupta N, Berger MS, Lee HS, Pekmezci M, Tihan T, Bollen AW, Perry A, Shieh JTC, Solomon DA. The genetic landscape of anaplastic pleomorphic xanthoastrocytoma. Brain Pathol. 2018 Jul 27. doi: 10.1111/bpa.12639. PubMed PMID: 30051528.
Huang M, Tailor J, Zhen Q, Gillmor AH, Miller ML, Weishaupt H, Chen J, Zheng T, Nash EK, McHenry LK, An Z, Ye F, Takashima Y, Clarke J, Ayetey H, Cavalli FMG, Luu B, Moriarity BS, Ilkhanizadeh S, Chavez L, Yu C, Kurian KM, Magnaldo T, Sevenet N, Koch P, Pollard SM, Dirks P, Snyder MP, Largaespada DA, Cho YJ, Phillips JJ, Swartling FJ, Morrissy AS, Kool M, Pfister SM, Taylor MD, Smith A, Weiss WA. Engineering Genetic Predisposition in Human Neuroepithelial Stem Cells Recapitulates Medulloblastoma Tumorigenesis. Cell Stem Cell. 2019 Jun 13. pii: S1934-5909(19)30217-6. doi: 10.1016/j.stem.2019.05.013. PubMed PMID: 31204176.
Tran VM, Wade A, McKinney A, Chen K, Lindberg OR, Engler JR, Persson AI, Phillips JJ. Heparan Sulfate Glycosaminoglycans in Glioblastoma Promote Tumor Invasion. Mol Cancer Res. 2017 Aug 4. doi: 10.1158/1541-7786.MCR-17-0352. PMID: 28778876. Selected by journal to be highlighted.
Miroshnikova YA, Mouw JK, Barnes JM, Pickup MW, Lakins JN, Kim Y, Lobo K, Persson AI, Reis GF, McKnight TR, Holland EC, Phillips JJ, Weaver VM. Tissue mechanics promote IDH1-dependent HIF1α-tenascin C feedback to regulate glioblastoma aggression. Nat Cell Biol. 2016 Dec;18(12):1336-1345. PMID: 27820599.
Lindberg OR, McKinney A, Engler JR, Koshkakaryan G, Gong H, Robinson AE, Ewald AJ, Huillard E, James CD, Molinaro AM, Shieh JT, Phillips JJ. GBM heterogeneity as a function of variable epidermal growth factor receptor variant III activity. Oncotarget. 2016 Oct 12. PMID: 27738329.
Engler JR, Robinson AE, Smirnov I, Hodgson JG, Berger MS, Gupta N, James CD, Molinaro A, Phillips JJ. Increased microglia/macrophage gene expression in a subset of adult and pediatric astrocytomas. PLoS One. 2012; 7(8):e43339. PMID: 22937035. PMC3425586.
Phillips JJ, Huillard E, Robinson AE, Ward A, Lum DH, Polley MY, Rosen SD, Rowitch DH, Werb Z. Heparan sulfate sulfatase SULF2 regulates PDGFRa signaling and growth in human and mouse malignant glioma. J Clin Invest. 2012 Mar 1; 122(3):911-22. PMID: 22293178. PMC3287216.
Awards
1993-94: Hughes Scholars Program, Cornell University
2001: Stuart Mudd Award in Microbiology, University of Pennsylvania School of Medicine
2005: Moore Award, best paper on Clinico-Pathological Correlation, AANP annual meeting
2006: Young Pathologist Fellowship, ASIP annual meeting
2008: Rubinstein Award, best paper on Neuro-Oncology, AANP annual meeting
2008-2013: NIH Mentored Clinical Scientist Development Award (K08)
2010: Aspen Cancer Conference Fellow
2012: Second place, Moore Award, Best paper on clinico-pathological correlation, Annual meeting American Association of Neuropathologists
2013: Nominated for University of California, San Francisco School of Medicine Essential Core Teaching Award
2015: Excellence in Teaching Award in medical education from the Haile T. Debas Academy of Medical Educators