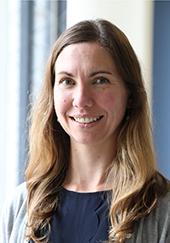 Jessica Van Ziffle, PhD
Assistant Clinical Professor; Associate Director, Clinical Cancer Genomics Laboratory
Pathology
Division
Clinical Cancer Genomics Laboratory
Specialty Areas
Molecular Genetics and Genomics
UCSF
Pathology, Box 0808
2340 Sutter Street, Room S132
San Francisco, CA 94143
United States
Other UCSF Organizational Association(s)
Institute for Human Genetics
Selected Publications
Foley N, Van Ziffle J, Yu J, Qi Z, Grenert JP, Yeh I, Bastian B, Kogan S, Mannis GN. Acute myeloid leukemia with t(14;21) involving RUNX1 and SYNE2: A novel favorable-risk translocation? Cancer Genet. 2017 Oct;216-217:74-78. PubMed PMID: 29025598.
Kline CN, Joseph NM, Grenert JP, van Ziffle J, Talevich E, Onodera C, Aboian M, Cha S, Raleigh DR, Braunstein S, Torkildson J, Samuel D, Bloomer M, Campomanes AGA, Banerjee A, Butowski N, Raffel C, Tihan T, Bollen AW, Phillips JJ, Korn WM, Yeh I, Bastian BC, Gupta N, Mueller S, Perry A, Nicolaides T, Solomon DA. Targeted next-generation sequencing of pediatric neuro-oncology patients improves diagnosis, identifies pathogenic germline mutations, and directs targeted therapy. Neuro Oncol. 2017 May 1;19(5):699-709. PubMed PMID: 28453743.
White Y, Bagchi A, Van Ziffle J, Inguva A, Bollag G, Zhang C, Carias H, Dickens D, Loh M, Shannon K, Firestone AJ. KRAS insertion mutations are oncogenic and exhibit distinct functional properties. Nat Commun. 2016 Feb 8;7:10647. doi: 10.1038/ncomms10647. PubMed PMID: 26854029; PubMed Central PMCID: PMC4748120.