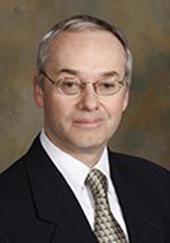 Jeffry P. Simko, PhD, MD
Professor of Clinical Pathology, Departments of Anatomic Pathology, Urology and Radiation Oncology
Pathology
Specialty Areas
Surgical Pathology
Prostate
Bladder Tumor
Kidney Tumor
Genitourinary Pathology
Bone and Soft Tissue Pathology
Research
UCSF
Pathology, Box 4066
1825 4th Street, Room M2360
San Francisco, CA 94143
United States
Other UCSF Organizational Association(s)
Professor of Clinical Pathology, Departments of Urology and Radiation Oncology
Director, Genitourinary Program Tissue Core, UCSF Helen Diller Family Comprehensive Cancer Center
Associate Director, NRG Biobank at UCSF (An NCI Sponsored National Cooperative Group Resource)
Director, Molecular Genetic Pathology Fellowship Program (ACGME-accredited)
Research and Clinical Interests
My mission within the Department of Pathology is fourfold. My major focus is genitourinary pathology, where I closely interact with the urologic oncology group of the UCSF Comprehensive Cancer Center concerning clinical and basic science problems. A large number of research projects amenable to resident participation are available in this area. Specific areas include radiologic-pathologic correlation studies and imaging technology development (mainly focused on MRI/MRSI of the prostate and kidney), biomarker discovery efforts, clinical-pathologic correlation studies, and tumor model construction and characterization. These efforts also extend to my participation in some of the cooperative groups performing national clinical trials (NRG and "The Alliance"). I also participate in biospecimen banking efforts here at UCSF, and on a national level through participation in the NRG, one of the NCI-sponsored cooperative groups performing international clinical trials related to cancer treatment. I also perform general surgical pathology sign out and molecular pathology signout duties. I'm currently serving as interim director of the molecular Genetic Pathology Fellowship Program. For additional information, please link to:
Selected Publications
Cooperberg MR, Cowan JE, Lindquist KJ, Kobayashi Y, Simko JP, Bengtsson H, Singh K, Ngo V, Avila A, Newcomb LF, Tretriakova M, Lin DW, Stone S, Carroll PR, Paris PL. Multiple Tissue Biomarkers Independently and Additively Predict Prostate Cancer Pathology Outcomes. Eur Urol. 2020 Nov 1:S0302-2838(20)30694-1. doi: 10.1016/j.eururo.2020.09.003. Epub ahead of print. PMID: 33148472.
Greenland NY, Cowan JE, Chan E, Carroll PR, Stohr BA, Simko JP. Prostate biopsy histopathologic features correlate with a commercial gene expression assay's reclassification of patient NCCN risk category. Prostate. 2020 Dec;80(16):1421-1428. doi: 10.1002/pros.24072. Epub 2020 Sep 18. PMID: 32946625.
Fendler WP, Calais J, Eiber M, Simko JP, Kurhanewicz J, Santos RD, Feng FY, Reiter RE, Rettig MB, Nickols NG, Kishan AU; PSMA PET Reader Group, Slavik R, Carroll PR, Lawhn-Heath C, Herrmann K, Czernin J, Hope TA. False positive PSMA PET for tumor remnants in the irradiated prostate and other interpretation pitfalls in a prospective multi-center trial. Eur J Nucl Med Mol Imaging. 2020 Aug 17. doi: 10.1007/s00259-020-04945-1. Epub ahead of print. PMID: 32808077.
van Leenders GJLH, van der Kwast TH, Grignon DJ, Evans AJ, Kristiansen G, Kweldam CF, Litjens G, McKenney JK, Melamed J, Mottet N, Paner GP, Samaratunga H, Schoots IG, Simko JP, Tsuzuki T, Varma M, Warren AY, Wheeler TM, Williamson SR, Iczkowski KA; ISUP Grading Workshop Panel Members. The 2019 International Society of Urological Pathology (ISUP) Consensus Conference on Grading of Prostatic Carcinoma. Am J Surg Pathol. 2020 Aug;44(8):e87-e99. doi: 10.1097/PAS.0000000000001497. PMID: 32459716; PMCID: PMC7382533.
Greenland NY, Cowan JE, Zhang L, Carroll PR, Chan E, Stohr BA, Simko JP. Expansile cribriform Gleason pattern 4 has histopathologic and molecular features of aggressiveness and greater risk of biochemical failure compared to glomerulation Gleason pattern 4. Prostate. 2020 May;80(8):653-659. doi: 10.1002/pros.23977. Epub 2020 Mar 27. PMID: 32220141.