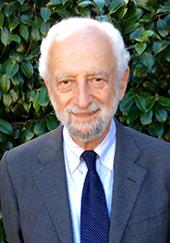 Jack Levin, MD
Professor of Laboratory Medicine, Professor of Medicine
Laboratory Medicine
Specialty Areas
Hematology/Transfusion Medicine
UCSF
Laboratory Medicine, SFVAHCS 111H2
4150 Clement Street, Bldg 1, Room 218
San Francisco, CA 94143
United States
Research and Clinical Interests
Regulation of platelet production; Biological effects of bacterial endotoxins; Blood transfusion practices
Selected Publications
LEVIN J, Cocault L, Demerens C, Challier C, Pauchard M, Caen J and Souyri M. Thrombocytopenic c-mpl-/- mice can produce a normal level of platelets after administration of 5-fluorouracil: the effect of age on the response. Blood 98:1019, 2001.
Paulus J-M, LEVIN J, Debili N, Albert A and Vainchenker W. Genesis of clone size heterogeneity in megakaryocytic and other hemopoietic colonies: the stochastic model revisited. Exper Hematol 29:1256, 2001.
Currell DL and LEVIN J. The oxidative effect of bacterial lipopolysaccharide on native and cross-linked human hemoglobin as a function of the structure of the lipopolysaccharide. A comparison of the effects of smooth and rough lipopolysaccharide. Eur J Biochem 269:4635, 2002.
Brandenburg K, Garidel P, Jürgens G, Müller M, Blume A, Koch MHJ and LEVIN J. Cross-linked hemoglobin converts endotoxically inactive pentaacyl endotoxins into a physiologically active conformation. J Biol Chem 278:47660, 2003.
Paulus J-M, Debili N, Larbret F, LEVIN J and Vainchenker W. Thrombopoietin responsiveness reflects the number of doublings undergone by megakaryocyte progenitors. Blood 104:229l, 2004.