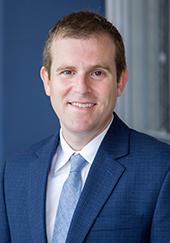 David A. Solomon, MD, PhD
Assistant Professor
Pathology
Specialty Areas
Molecular Neuropathology
Surgical Neuropathology
Cancer Genetics
Cell Biology
UCSF
Pathology, Box 0102
513 Parnassus Avenue, Room HSW-451
San Francisco, CA 94143
United States
Other UCSF Organizational Association(s)
Member, Biomedical Sciences Graduate Program
Member, Helen Diller Family Comprehensive Cancer Center
Investigator, UCSF Brain Tumor Center
Research and Clinical Interests
The Solomon laboratory studies the molecular mechanisms governing chromosomal instability and oncogenesis. We recently discovered frequent inactivating mutations of genes including STAG2 that encode the cohesin complex in tumors including glioblastoma, urothelial carcinoma, Ewing sarcoma, and acute myeloid leukemia, which define molecular subgroups of these tumors with distinct clinical outcomes. The cohesin complex is responsible for sister chromatid cohesion following DNA replication and helps ensure faithful chromosome segregation during mitosis, but has also been implicated in additional cellular processes such as regulation of chromatin architecture and gene transcription. We are currently working to determine the function of cohesin during tumorigenesis and to identify therapeutic vulnerabilities in the many cancers harboring cohesin gene alterations.
My clinical interests focus on diagnostic neuropathology, particularly tumors of the central nervous system. Accurate pathologic classification of brain tumors is increasingly dependent on integration of histologic features together with specific genetic alterations that molecularly define the many CNS tumor subtypes. I have thus been working with the Clinical Cancer Genomics Laboratory to advance molecular diagnostic testing for brain tumors at UCSF. My ongoing research is also focused on identifying the recurrent genetic alterations that drive rare brain tumor variants including choroid plexus tumors, pineal parenchymal tumors, and central neurocytomas.
Selected Publications
Cohesin gene mutations in tumorigenesis
Mondal G, Stevers M, Goode B, Ashworth A, Solomon DA. A requirement for STAG2 in DNA replication fork progression creates a targetable synthetic lethality in cohesin-mutant cancers. Nature Communications 2019, 10: 1686.
Brohl AS, Solomon DA, Chang W, Wang, J, Song YK, Sindiri S, Patidar R, Hurd L, Chen L, Shern JF, Gerard J, Kim JS, Lopez Guerrero JA, Machado I, Wai DH, Picci P, Triche TJ, Horvai AE, Miettinen M, Wei JS, Catchpoole D, Llombart-Bosch A, Waldman T, Khan J. The genomic landscape of the Ewing sarcoma family of tumors reveals recurrent STAG2 mutation. PLoS Genetics 10: e1004475, 2014.
Solomon DA, Kim JS, Bondaruk J, Shariat SF, Wang ZF, Elkahloun AG, Ozawa T, Gerard J, Zhuang D, Zhang S, Navai N, Siefker-Radtke A, Phillips JJ, Robinson BD, Rubin MA, Volkmer B, Hautmann R, Kufer R, Hogendoorn PCW, Netto G, Theodorescu D, James CD, Czerniak B, Miettinen M, Waldman T. Frequent truncating mutations of STAG2 in bladder cancer. Nature Genetics 45: 1428-1430, 2013.
Solomon DA, Kim T, Diaz-Martinez LA, Fair J, Elkahloun AG, Harris BT, Toretsky J, Rosenberg SA, Samuels Y, Shukla N, Ladanyi M, James CD, Yu H, Kim JS, Waldman T. Mutational inactivation of STAG2 causes aneuploidy in human cancer. Science 333: 1039-1043, 2011.
Brain tumor molecular pathogenesis and targeted therapy
Sloan EA, Hilz S, Gupta R, ..., Costello J, Perry A, Solomon DA. Gliomas arising in the setting of Li-Fraumeni syndrome stratify into two molecular subgroups with divergent clinicopathologic features. Acta Neuropathologica 2020 Epub Mar 10.
Lucas CG, Villanueva-Meyer JE, Whipple N, ..., Bollen AW, Perry A, Solomon DA. Myxoid glioneuronal tumor, PDGFRA p.K385-mutant: clinical, radiologic, and histopathologic features. Brain Pathology 2019 Epub Oct 14.
Sloan EA, Cooney T, Oberheim Bush NA, ..., Bollen AW, Perry A, Solomon DA. Recurrent non-canonical histone H3 mutations in spinal cord diffuse gliomas. Acta Neuropathologica 2019, 138: 877-881.
Ferris SP, Velazquez Vega J, Aboian M, ..., Cha S, Perry A, Solomon DA. High-grade neuroepithelial tumor with BCOR exon 15 internal tandem duplication – a comprehensive clinical, radiographic, pathologic, and genomic analysis. Brain Pathology 2020, 30: 46-62.
Lee JC, Mazor T, Lao R, ..., Perry A, Costello J, Solomon DA. Recurrent KBTBD4 small in-frame insertions and absence of DROSHA deletion or DICER1 mutation differentiate pineal parenchymal tumor of intermediate differentiation (PPTID) from pineoblastoma. Acta Neuropathologica 2019, 137: 851-854.
Lee J, Putnam AR, Chesier SH, ..., Perry A, Solomon DA. Oligodendrogliomas, IDH-mutant and 1p/19q-codeleted, arising during teenage years often lack TERT promoter mutation that is typical of their adult counterparts. Acta Neuropathologica Communications 2018, 6: 95.
Lopez GY, Van Ziffle J, Onodera C, ..., Bollen AW, Perry A, Solomon DA. The genetic landscape of gliomas arising after therapeutic radiation. Acta Neuropathologica 2019, 137: 139-150.
Phillips JJ, Gong H, Chen K, …, Perry A, Joseph Shieh JT, Solomon DA. The genetic landscape of anaplastic pleomorphic xanthoastrocytoma. Brain Pathology 2018, 29: 85-96.
Solomon DA, Korshunov A, Sill M, ..., Pekmezci M, Bollen AW, Perry A. Myxoid glioneuronal tumor of the septum pellucidum and lateral ventricle is defined by a recurrent PDGFRA p.K385 mutation and DNT-like methylation profile. Acta Neuropathologica 2018, 136: 339-343.
Pekmezci M, Villanueva-Meyer JE, Goode B, ..., Perry A, Tihan T, Solomon DA. The genetic landscape of ganglioglioma. Acta Neuropathologica Communications 2018, 6: 47.
Goode B, Mondal G, Hyun M, ..., Perry A, Solomon DA. A recurrent kinase domain mutation in PRKCA defines chordoid glioma of the third ventricle. Nature Communications 9: 810, 2018.
Pekmezci M, Stevers M, Phillips JJ, Van Ziffle J, Bastian BC, Tsankova NM, Kleinschmidt-DeMasters BK, Rosenblum MK, Tihan T, Perry A, Solomon DA. Multinodular and vacuolating neuronal tumor of the cerebrum is a clonal neoplasm defined by genetic alterations that activate the MAP kinase signaling pathway. Acta Neuropathologica 135: 485-488, 2018.
Kline CN, Joseph NM, Grenert JP, van Ziffle J, Talevich E, Onodera C, Aboian M, Cha S, Raleigh DR, Braunstein S, Torkildson J, Samuel D, Bloomer M, Campomanes AGA, Banerjee A, Butowski N, Raffel C, Tihan T, Bollen AW, Phillips JJ, Korn WM, Yeh I, Bastian BC, Gupta N, Mueller S, Perry A, Nicolaides T, Solomon DA. Targeted next-generation sequencing of pediatric neuro-oncology patients improves diagnosis, identifies pathogenic germline mutations, and directs targeted therapy. Neuro-Oncology 19: 699-709, 2017.
Solomon DA, Wood MD, Tihan T, Bollen AW, Gupta N, Phillips JJ, Perry A. Diffuse midline gliomas with histone H3-K27M mutation: a series of 47 cases assessing the spectrum of morphologic variation and associated genetic alterations. Brain Pathology 26: 569-580, 2016.
Hashizume R, Andor N, Ihara Y, Lerner R, Gan H, Chen X, Fang D, Huang X, Tom MW, Ngo V, Solomon D, Mueller S, Paris P, Zhang Z, Petritsch C, Gupta N, Waldman T, James CD. Pharmacologic inhibition of histone demethylation as a therapy for pediatric brainstem glioma. Nature Medicine 20: 1394-1396, 2014.
Nicolaides TP, Li H, Solomon DA, Hariono S, Hashizume R, Barkovich K, Baker SJ, Paugh BS, Jones C, Forshew T, Hindley GF, Hodgson JG, Kim JS, Rowitch DH, Weiss WA, Waldman T, James CD. Targeted therapy for BRAFV600E malignant astrocytoma. Clinical Cancer Research 17: 7595-7604, 2011.
Michaud K, Solomon DA, Oermann E, Kim JS, Zhong WZ, Prados MD, Ozawa T, James CD, and Waldman T. Pharmacologic inhibition of cyclin-dependent kinases 4 and 6 arrests the growth of glioblastoma multiforme intracranial xenografts. Cancer Research 70: 3228-3238, 2010.
Solomon DA, Kim JS, Ressom HW, Sibenaller Z, Ryken T, Jean W, Bigner D, Yan H, Waldman T. Sample type bias in the analysis of cancer genomes. Cancer Research 69: 5630-5633, 2009.
Solomon DA, Kim JS, Cronin JC, Sibenaller Z, Ryken T, Bigner D, Yan H, Rosenberg SA, Ressom H, Jean W, Samuels Y, Waldman T. Mutational inactivation of PTPRD in glioblastoma multiforme and malignant melanoma. Cancer Research 68: 10300-10306, 2008.
Solomon DA, Kim JS, Jenkins S, Ressom H, Huang M, Coppa N, Mabanta L, Bigner D, Yan H, Jean W, Waldman T. Identification of p18INK4c as a tumor suppressor gene in glioblastoma multiforme. Cancer Research 68: 2564-2569, 2008.
Awards
2020 Ramzi Cotran Young Investigator Award, USCAP
2019 Lucien Rubinstein Neuro-Oncology Award, AANP
2016 UCSF Physician-Scientist Scholar Program
2015-2020 NIH Director's Early Independence Award, NIH High-Risk, High-Reward Program
2015-2016 Career Development Research Award, UCSF Brain Tumor SPORE
2015 Hans Popper Hepatopathology Society Award
2014 Stowell-Orbison Award, USCAP Annual Meeting
2014 International Society of Bone & Soft Tissue Pathology Young Investigator Award
2013 Stowell-Orbison Award, USCAP Annual Meeting
2013 Julius R. Krevans Award, San Francisco General Hospital
2012 Harold Weintraub Graduate Student Award, Fred Hutchinson Cancer Research Center
2012 Future Leaders in Basic Cancer Research, AACR Annual Meeting
2004 Winning image, Cell of the Month Image Competition, Nature Cell Biology