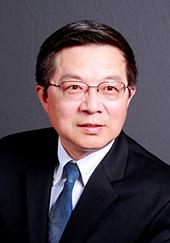 Chuanyi Mark Lu, MD
Professor and Vice Chair, UCSF Depart of Laboratory Medicine; Chief, Laboratory Medicine Service & Director, Hematology & Hematopathology, San Francisco VA Healthcare System
Laboratory Medicine
Specialty Areas
Hematology
Coagulation
Hematopathology
UCSF
SFVAHCS, Lab Medicine Service (113A)
4150 Clement Street
San Francisco, CA 94121
United States
Research and Clinical Interests
Major areas of interest include laboratory hematology and coagulation, hematopathology, laboratory management, and medical education. Primary research focus is translational research in laboratory assay development and in hematological and cardiovascular disorders.
Selected Publications
Lu CM, Giordano FJ, Rothman A, et al. Antisense fosB RNA inhibits thrombin-induced hypertrophy in cultured pulmonary arterial smooth muscle cells. Circulation 1998; 98:596-603. [PMID: 9714118]
Lu CM, Deftos LJ, Herold DA, et al. Mass spectrometric immunoassay for parathyroid hormone-related protein. Anal Chem. 2002; 74:5507-12. [PMID: 12433080]
Bao X, Lu CM, Simpson PC, Ziegler MG, et al. Epinephrine is required for normal cardiovascular responses to stress in the phenylethanolamine N-methyltransferase knockout mouse. Circulation 2007;116:1024-31. [PMID: 17698731]
Wool G, Lu CM. Pathology consultation on anticoagulation monitoring: factor X-related assays. Am J Clin Pathol. 2013;140:623-34. [PMID: 24124140]
Wiita AP, Lu CM, Wells JA, et al. Circulating proteolytic signatures of chemotherapy-induced cell death in humans discovered by N-terminal labeling. Proc Natl Acad Sci USA. 2014; 111:7594-9. [PMID: 24821784]
Awards
Outstanding Contributions Award in Education, Am Association Clin Chem (AACC) California Section, 2019
ASH (Am Society of Hematology) Representative to LTO Editorial Board (https://labtestsonline.org/) (2009-present, appointed by ASH Presidents)
Teaching Scholar, Teaching Scholars Program, UCSF School of Medicine, 2005-2006.
Faculty Teaching Award, UCSF Department of Laboratory Medicine, 2004.
Paul E. Strandjord Young Investigator Award, Academy of Clin Lab Physicians & Scientists, 2001.