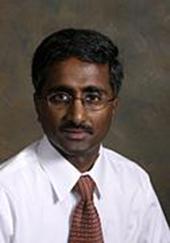 Ashok Nambiar, MD
Clinical Professor; Medical Director, UCSF Transfusion Service; Medical Director, Moffitt-Long, Mission Bay and Mt Zion Hospital Tissue Banks
Laboratory Medicine
Specialty Areas
Transfusion Medicine and Blood Banking
UCSF
Laboratory Medicine, Box 0100
505 Parnassus Avenue, Room M-501B
San Francisco, CA 94143
United States
Hospital Affiliations
UCSF Parnassus Heights
UCSF Mission Bay
UCSF Mount Zion
Research and Clinical Interests
Clinical interests include diagnostic immunohematology, blood donor safety and transfusion therapy. Research interests include platelet alloimmunization, microbial contamination of blood products, error management and systems approach to transfusion safety.
Selected Publications
Ashok Nambiar et al. HLA Matchmaker-driven analysis of responses to HLA-Typed platelet transfusions in alloimmunized thrombocytopenic patients. Blood. 2006 Feb 15; 107 (4): 1680-7
Nancy Dunbar, Jean Katz and Ashok Nambiar. The Potential Impact of New Donor Height and Weight Criteria on Young Donor Eligibility and Faint or Pre-Faint Reaction Rates. Transfusion 2011 Apr; 51(4):737-41.
Michael R. Jacobs et al and PGD Study Group. Detection of bacterial contamination in pre-storage culture negative apheresis platelets on day of issue with the PGD test. Transfusion 2011; published online: 29 Aug 2011.
Arun Wiita and Ashok Nambiar. Longitudinal management with cross match-compatible platelets for refractory patients: alloimmunization, response to transfusion, and clinical outcomes. Transfusion, published online: 11 March 2012.
Mark D. Rollins et al. Two septic transfusion reactions presenting as TRALI from a split plateletpheresis unit. Critical Care Medicine 2012.
Awards
2004: AABB Baxter Transfusion Medicine Fellow Scholarship Award
2006: Faculty Teaching Award
2010: Faculty Teaching Award
2011: Faculty Teaching Award