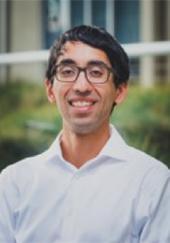 Arun P. Wiita, MD, PhD
Associate Professor
Laboratory Medicine
UCSF
Laboratory Medicine, Box 0134
185 Berry Street, Suite 290
San Francisco, CA 94143
United States
Other UCSF Organizational Association(s)
Research and Clinical Interests
My research laboratory is focused on understanding fundamental protein translation as well as chemotherapeutic response in hematologic malignancies. We use a combination of deep sequencing of nucleic acids and mass spectrometry-based proteomics to characterize cellular-wide phenotypes in these diseases.
Selected Publications
Perez-Jimenez, R., Wiita, A.P., Larrea-Rodriguez, D., Kosuri, P., Gavira, J.A., Sanchez-Ruiz, J.M., and Fernandez, J.M. Force-clamp spectroscopy detects residue co-evolution in enzyme catalysis. J. Biol. Chem. 283, 27121-27129 (2008).
Wiita, A.P., Roubinian, N., Khan, Y., Chin-Hong, P.V., Golden, J.A., and Miller, S. Cytomegalovirus disease and infection in lung transplant recipients in the setting of planned indefinite valganciclovir prophylaxis. Transpl. Infect. Dis. 14, 248-58 (2012). PMID: 22385394.
Wiita, A.P., Nambiar A. Longitudinal management with crossmatch-compatible platelets for refractory patients: alloimmunization, response to transfusion, and clinical outcomes. Transfusion 52, 2146-54 (2012).
Wiita, A.P., Ziv, E., Wiita, P.J., Urisman, A., Julien, O., Burlingame, A.L., Weissman, J.S., and Wells, J.A. Global cellular response to chemotherapy-induced apoptosis. eLife 02:e01236 (2013).
Wiita, A.P., Hsu, G.W., Lu, C.M., Esensten, J., and Wells, J.A. Circulating proteolytic signatures of chemotherapy-induced cell death in humans discovered by N-terminal labeling. Proc. Natl. Acad. Sci. USA 111, 7594-9 (2014).
Awards
2002 Sigma Xi honor society, Princeton U.
2002 Phi Beta Kappa honor society, Princeton U.
2002 Sigma Xi Book Award for undergraduate thesis research, Princeton U.
2008 Winner, Wharton Venture Award, team Bayesian Diagnosis, U. Penn.
2008 Dean's Award for Excellence in Research, Columbia U. College of P&S
2012-14 Damon Runyon Cancer Research Foundation Post-doctoral Fellowship
2014-19 NIH-NCI K08 Mentored Clinical Scientist Development Award
2014 Dale Frey Breakthrough Award, Damon Runyon Cancer Research Foundation