Gastrointestinal & Hepatobiliary Consultation Service
The GI-Hepatobiliary pathology division offers consultation service for biopsies and resections of the liver, gallbladder, biliary tree, pancreas and gastrointestinal tract. A wide armamentarium of immunohistochemical stains and specialized assays such as albumin in situ hybridization, fluorescence in situ hybridization and institutional next generation sequencing assay covering 500 genes (UCSF 500) is available for diagnostic use. Electron microscopy is available when necessary.
The UCSF GI-Hepatobiliary pathology consult service was started by Dr. Linda Ferrell and over the years has gained national and international recognition with more than 1500 consultation cases per year covering both adult and pediatric medical liver diseases, liver tumors, and neoplastic as well as non-neoplastic gastrointestinal and pancreaticobiliary diseases. These include challenging cases sent by pathologists as well as cases submitted for second opinion by patients and treating physicians. For the latter situations, a copy of the report is provided to the original pathologist. Please feel free to call our consultants before submitting a case to discuss pertinent details, or after the case has been signed out to discuss the diagnosis and provide follow-up.
MEET YOUR EXPERT GI-HEPATOBILIARY PATHOLOGISTS
The consultation service is primarily handled by Drs. Sanjay Kakar, Grace Kim, and Ryan Gill, with assistance from Drs. Soo-Jin Cho (added expertise in Pediatric Pathology and Bone and Soft Tissue Pathology) and Rageshree Ramachandran. Dr. Ferrell is occasionally available to consult on a case, as an Emeritus Professor, Collectively, we have published over 400 manuscripts on the liver and GI and pancreaticobiliary pathology, over 50 textbooks or chapters, and provided numerous lectures and courses at national and international meetings. 
RECENT PUBLICATIONS AND BOOK CHAPTERS BY OUR EXPERTS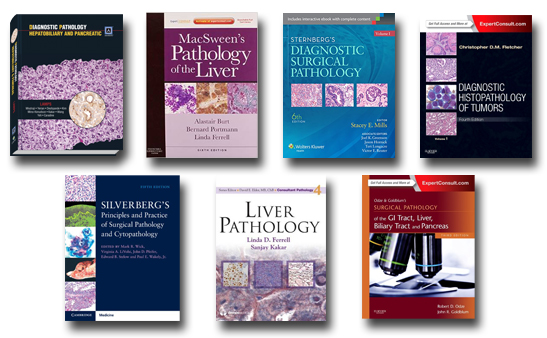 Liver Tumor

Chen B, et al. Gastroenterology. 2017 Mar 8. pii: S0016-5085(17)30264-0
Hale G, et al. Mod Pathol. 2016 Nov;29(11):1370-1380
Tsokos CG, et al. Hum Pathol. 2016 Nov;57:61-67
Gill RM, et al. Hum Pathol. 2016 Aug;54:143-51
Balabaud C, et al. Hum Pathol 2015, 46(4): 634-5
Kakar S, et al. Modern Pathology 2015, 28(1): 159-60

Shafizadeh N, et al. Hum Pathol 2014, 45(5):976-83
Kakar S, et al. Mod Pathol 2014, 27(11):1499-509
Kakar S, et al. Hum Pathol 2014, 45(3):660-1
Joseph NM, et al. Mod Pathol 2014, 27(1):62-72
Kakar S, et al. Hum Pathol 2014, 45(3):660-1
Evason KJ, et al. Hum Pathol 2013, 44(5)5:750-8
NASH

Tsai JH, et al. Mod Pathol. 2017 Mar 3. doi:10.1038/modpathol.2017.13
Ajmera V, et al. Hepatology. 2017 Jan;65(1):65-77
Yang JD, et al. Clin Gastroenterol Hepatol. 2017 Jan;15(1):127-131.e2

Gill RM and Kakar S. Surg Pathol Clin 2013, 6(2):227-258
Guy CD, et al. Hum Pathol 2012, 43(6):790-800
Bhamba K, et al. Hepatology 2012, 55(3):769-80
Gill RM, et al. Am J Surg Pathol 2011,35(9):1400-4
Liver Transplant
Choi WT, et al. Am J Surg Pathol. 2017 Mar;41(3):365-373
General Hepatobiliary
Geha R, et al. N Engl J Med. 2017 Mar 2;376(9):869-874
Giard JM, et al. ACG Case Rep J. 2016 Nov 23;3(4):e162
Choi WT, et al. Case Rep Gastroenterol. 2016 May 19;10(1):81-7