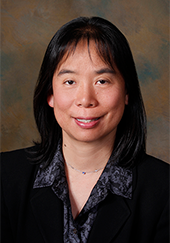 Yunn-Yi Chen, MD, PhD
Professor of Clinical Pathology, Director of Breast Pathology Services, Director of Immunohistochemistry Laboratory
Pathology
Specialty Areas
Surgical Pathology
Breast Pathology
Gastrointestinal Pathology
UCSF
Pathology, Box 4066
1825 4th Street, Room M2358
San Francisco, CA 94143
United States
Research and Clinical Interests
My interests are in diagnostic surgical pathology, in particular breast pathology. One of my goals is to use the results from immunohistochemical and genetic studies to refine the criteria for pathologic diagnosis. Most of my research activity is a part of a collaborative team of scientists and clinicians interested in the study of early breast cancer. We are studying the molecular and genetic pathways in breast cancer especially those related to lobular carcinoma. Another area of active research is in molecular markers and pathologic features in breast cancers following neoadjuvant chemotherapy.
Selected Publications
Chen, YY, Hwang, ES, Roy, R, DeVries, S, Anderson, J, Wa, C, Fitzgibbons, P, Jacobs, T, MacGrogan, G, Peterse, H, Vincent-Salomon, Schnitt, SJ, Waldman, FM (2009). Genetic and phenotypic characteristics of pleomorphic lobular carcinoma in situ of the breast. Am J Surg Pathol 33:1683-94.
Rabban, JT, Glidden, D, Kwan, M, and Chen, YY(2009). Pure and predominantly pure intralymphatic breast carcinoma following neoadjuvant chemotherapy: an unusual and adverse pattern of residual disease. Am J Surg Pathol;33:256-263.
Shin, SJ, Lal, A, De Vries, S, Suzuki, J, Roy, R, Hwang, ES, Schnitt, SJ, Waldman, FM, Chen, YY. Florid lobular carcinoma in situ: molecular profiling and comparison to classic lobular carcinoma in situ and pleomorphic lobular carcinoma in situ. Hum Pathol. 2013 Oct; 44(10):1998-2009.
Mouw JK, Yui Y, Damiano L, Bainer RO, Lakins JN, Acerbi I, Ou G, Wijekoon AC, Levental KR, Gilbert PM, Hwang ES, Chen YY, Weaver VM. Tissue mechanics modulate microRNA-dependent PTEN expression to regulate malignant progression. Nat Med. 2014 Apr;20(4):360-7.
Krings G, Nystrom M, Mehdi I, Vohra P, Chen YY. Diagnostic utility and sensitivities of GATA3 antibodies in triple-negative breast cancer. Hum Pathol. 2014 Nov;45(11):2225-32.