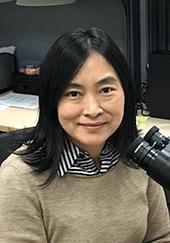 Yi Xie, MD, PhD
Assistant Clinical Professor
Laboratory Medicine
Specialty Areas
Hematopathology
Hematology
Flow Cytometry
UCSF
Laboratory Medicine, Box 0100
185 Berry Street, Suite 290
San Francisco, CA 94107
United States
Hospital Affiliations
UCSF Mission Bay
UCSF Parnassus Heights
UCSF Mount Zion
Research and Clinical Interests
My clinical and research interests are in the areas of bone marrow and lymph node pathology with a focus on immunophenotypic and molecular characterization of myeloid and lymphoid neoplasms as well as their reactive mimics.
Selected Publications
Xie Y, Bulbul MA, Ji L, Inouye CM, Groshen SG, Tulpule A, O'Malley DP, Wang E, Siddiqi IN. p53 expression is a strong marker of inferior survival in de novo diffuse large B-cell lymphoma and may have enhanced negative effect with MYC co-expression: a single institutional clinicopathologic study. American Journal of Clinical Pathology. 2014; 141(4):593-604.
Xie Y, Pittaluga S, Jaffe ES. The histological classification of DLBCL. Seminars in Hematology. 2015 Apr;52(2):57-66.
Xie Y, Pittaluga S, Price S, Raffeld M, Hahn J, Jaffe ES, Rao VK, Maric I. Bone marrow findings in autoimmune lymphoproliferative syndrome with germline FAS mutation. Haematologica. 2017 Feb;102(2):364-372.
Li Y, Gupta G, Molofsky A, Xie Y, Shihabi N, McCormick J, Jaffe ES. B Lymphoblastic Leukemia/Lymphoma with Burkitt-like morphology and IGH/MYC rearrangement: report of three cases in adult patients. American Journal of Surgical Pathology. 2018; 242(2):269-276.
Tanaka J, Su P, Luedke C, Jug R, Yang LH, Deak K, Rapisardo S, Zhang Y, Delos Angeles M, Xie Y, Wang E. Composite lymphoma of follicular B-cell and peripheral T-cell types with a distinct zone distribution in a 75-year-old male patient: a case study. Human Pathology. 2018; 76: 110–116.