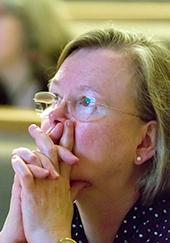 Teresa M. Darragh, MD
Professor of Clinical Pathology
Pathology
Specialty Areas
Cytopathology
Gynecologic Cytology
Anal Cytology
HPV-related Anogential Neoplasia
Colposcopy
UCSF
Pathology, Box 4034
1825 4th Street, Room L2181D
San Francisco, CA 94158
United States
Research and Clinical Interests
My primary interest is in the pathogenesis of human papilloma virus (HPV) induced anogenital neoplasia. I am actively involved with several clinical research projects investigating HPV-related anogenital tract disease in men and women, both immunocompetent and immunosuppressed. Our team at UCSF is internationally recognized as a leader in this field, and our work has been fundamental in the recognition of the clinical magnitude of anal HPV-related disease and in the increasing acceptance of the utility of anal cytology as a screening tool for at-risk populations.
Selected Publications
DARRAGH TM, Colgan TJ, Cox JT, Heller DS, Henry MR, Luff RD, McCalmont T, Nayar R, Palefsky JM, Stoler MH, Wilkinson EJ, Zaino RJ, Wilbur DC, Members Of The Last Project Work Groups. The Lower Anogenital Squamous Terminology Standardization Project for HPV-Associated Lesions: Background and ConsensusRecommendations from the College of American Pathologists and the American Society for Colposcopy and Cervical Pathology.
Archives of Pathology and Laboratory Medicine: 2012 Jun 28. [Epub ahead of print] 2012 Oct;136(10):1266-97.
Journal of Lower genital Tract Disease: 2012 Jun 28. [Epub ahead of print] July 2012 - Volume 16 - Issue 3 - p 205–242
International Journal of Gynecologic Pathology 2013 Jan;32(1):76-115.
Massad LS, Xie X, DARRAGH TM, Minkoff H, Levine A, D'Souza G, Cajigas A, Colie Christine C, Watts DH, Strickler H. Histologic correlates of glandular abnormalities in cervical cytology among women with HIV. Obstet & Gynecol. 2009 Nov;114(5):1063-1068.
Moriarty AT, DARRAGH TM, Souers R, Fatheree LA, Wilbur DC: Performance of Herpes simplex challenges in proficiency testing: Observations from the College of American Pathologists (CAP) Proficiency testing (PT) Program. Arch Pathol Lab Med. 2009 Sep;133(9):1379-82.
Berry JM, Palefsky JM, Jay N, Cheng SC, DARRAGH TM, Chin-Hong PV: Performance characteristics of anal cytology and human papillomavirus (HPV) testing in subjects with high-resolution anoscopy (HRA) guided biopsy of high-grade anal intraepithelial neoplasia (HGAIN). Dis Colon Rectum. Feb;52(2):239-247, 2009.
Hessol NA, Holly EA, , Efrid JT, Minkoff H, Schowalter K, DARRAGH TM, Burk RD, Strickler HD, Greenblatt RM, Palefsky JM: Anal intraepithelial neoplasia in a multisite study of HIV-infected and high-risk HIV-uninfected women. AIDS; 23:59-70, 2009.
Moscicki AB, Ma Y, Wibbelsman C, Powers A, DARRAGH TM, Farhat S, Shaber R, Shiboski S: Risks for cervical intraepithelial neoplasia 3 among adolescents and young women with abnormal cytology. Obstet Gynecol. Dec;112(6):1335-42, 2008.
Awards
ASCCP, Colposcopy Recognition Award
2006: ASCCP, Award of Merit
2008: ASCCP, Meritorious Award of Scientific Achievement, 2008 ASCCP Biennial
2010: ASCCP, Meritorious Award of Scientific Achievement, 2010 ASCCP Biennial