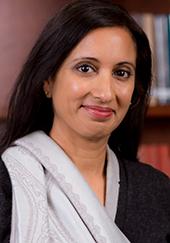 Shibani Pati, MD, PhD
Professor in Residence -UCSF Department of Laboratory Medicine; Scientific Director of Cellular Therapies Department of Lab Medicine at UCSF
Laboratory Medicine
UCSF
Laboratory Medicine, Box 0100
513 Parnassus Avenue, HSE-715
San Francisco, CA 94143
United States
Other UCSF Organizational Association(s)
Vitalant Research Institute
Research and Clinical Interests
I am a vascular biologist with an interest in the role of endothelial dysfunction and vascular compromise in the pathogenesis of human disease. My specific areas of investigation involve the use of stem cells and novel resuscitative modalities that can mitigate endothelial dysfunction in traumatic injury.
Abnormalities in vascular permeability leading to inflammation, tissue edema, and end-organ dysfunction significantly contribute to the morbidity and mortality associated with a number of human disease processes. For example, although a number of factors contribute to the high mortality and morbidity associated with traumatic brain injury (TBI), the development of cerebral edema with brain swelling remains one of the most significant predictors of outcome. Similarly both hemorrhagic shock and septic shock are characterized by abnormal vascular permeability, which contributes to the development of shock-associated acute lung injury (ALI) and acute respiratory distress syndrome (ARDS). Despite the clear importance of abnormal vascular permeability in a number of human disease processes, there exists no therapeutic modality in current use to attenuate it. Our research is focused on finding ways to mitigate vascular endothelial permeability, end organ damage and the Endotheliopathy of Trauma or EOT. My lab is currently funded by the NIH, private industry and the Department of Defense (DOD). We are currently part of a multi-center DOD funded trial based out of UCSF to investigate the use of MSCs in trauma induced ARDS (PI Matthay-UCSF).
Conference on Cellular Therapies in Trauma and Critical Care Medicine
We have now organized and hosted three conferences that have been focused upon cellular therapies in trauma and critical care. All three have been sponsored by CIRM.The first was held in 2012 and the most recent meeting was held in May, 2017. The website for the meeting is www.cttacc.org. The goal of this meeting is to bring together the expertise and input of blood bankers, clinicians running trials, basic scientists, companies, FDA, NIH, AABB, and the DOD representatives to discuss existing barriers in the translation of cell therapies in trauma and critical care medicine, a field with few therapeutic options. The areas covered spanned translationally relevant topics such as cell sourcing, cell expansion, cell storage, safety, funding, pre-clinical studies and clinical trials. Our speakers had diverse expertise and knowledge in these areas. Our target audience included clinicians, physician- scientists, and basic scientists who are currently working in or anticipate working in the field of cellular therapeutics in critically ill patients. There will be a supplement in the journal Transfusion that highlights a number of the talks from CTTACC 2017. The next meeting is scheduled for May, 2019.
Selected Publications
Pati S, Rasmussen TE. Cellular therapies in trauma and critical care medicine: Looking towards the future. PLoS Med. 2017 Jul 11;14(7):e1002343. doi: 10.1371/journal.pmed.1002343. eCollection 2017 Jul. PMID: 28700606
Pati S, Pilia M, Grimsley JM, Karanikas AT, Oyeniyi B, Holcomb JB, Cap AP, Rasmussen TE. Cellular Therapies in Trauma and Critical Care Medicine: Forging New Frontiers SHOCK 2015 Dec;44(6):505-23
Gyulnar Baimukanova, Byron Miyazawa, Daniel Potter, Marcus Muench, Roberta Bruhn, Stuart L. Gibb, Philip C. Spinella, Andrew P. Cap, Mitchell Cohen, Shibani Pati. Platelets Regulate Vascular Endothelial Stability: Assessing the Storage Lesion and Donor Variability of Apheresis Platelets. Transfusion. 2016 Mar;56 Suppl1:S65-75. doi: 10.1111/trf.13532.
Gyulinar Baikumanova, Byron Miyazawa, Daniel Potter, Stuart Gibb, Sheila Keating, Ali Danesh1, Ashley Beyer, Yelena Dayter, Roberta Bruhn,, Marcus Muench1,, Andrew P. Cap, Philip J. Norris, Philip Spinella, Mitchell Cohen and Shibani Pati. The effects of 22°C and 4°C storage of platelets on vascular endothelial integrity and function Transfusion. 2016 Mar;56 Suppl 1:S52-64. doi: 10.1111/trf.13455.
Pati S, Potter DR, Baikamunova G, Farrell DH, Holcomb JB, Schreiber MA. Modulating the Endotheliopathy of Trauma: factor Concentrate vs. Fresh Frozen Plasma J Trauma Acute Care Surg. 2016 Jan 21.
Awards
2009 Mission Connect Award (TIRR Foundation) for research in High throughput Screening of Drugs
2009 Mission Connect (TIRR Foundation Award) for the study of the Immunomodulatory effects of MAPCs in TBI
2006 Vivian L. Smith Postdoctoral Fellow Award in Neurocognitive Disorders
2007 NIH LRP Award for Pediatric Research in TBI
2009 NIH LRP Award for Pediatric Research in TBI
2009 Mission Connect Award (TIRR Foundation) for research in High throughput Screening of Drugs for motor neuron stem cell differentiation and survival
2011 Scott Murphy Guest Lectureship BEST/AABB San Diego
2014 Blood Systems Inc. TOP Performer $10,000 Award
2015 Shelton Foundation Neuro-military Award for Research in TBI
Additional Information
Specialty Areas
Stem cell therapeutics and stem cell derived factors in trauma and critical care medicine
Control of vascular leak in disease and mitigating endothelial damage
Novel Resuscitative Modalities- plasma (FFP), platelets, Lyophilized plasma, pathogen reduced plasma, factor concentrate
Storage Lesion of FFP and Platelets
Trauma induced ARDS, Stem cell therapies in traumatic brain injury (TBI) and spinal cord injury (SCI)