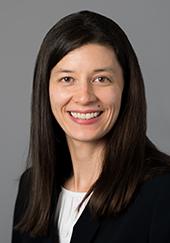 Sarah E. Umetsu, MD, PhD
Associate Professor; Medical Director, Pathology Gross Room; Director, Surgical Pathology Fellowship
Pathology
Specialty Areas
Surgical Pathology
Liver Pathology
Gastrointestinal Pathology
UCSF
Pathology, Box 0102
505 Parnassus Avenue, Room M551
San Francisco, CA 94143
United States
Research and Clinical Interests
My clinical activities focus primarily on liver and gastrointestinal surgical pathology. My research interests are in the genomics of hepatocellular carcinoma and in immune regulation in cancer, inflammatory bowel disease and liver transplantation.
Selected Publications
Joseph NM, Tsokos CG, Umetsu SE, Shain AH, Kelley RK, Onodera C, Bowman S, Talevich E, Ferrell LD, Kakar S, Krings G. Genomic profiling of combined hepatocellular-cholangiocarcinoma reveals similar genetics to hepatocellular carcinoma. J Pathol. 2019 Jan 28. PMID: 30690729
Joseph NM, Umetsu SE, Shafizadeh N, Ferrell L, Kakar S. Genomic profiling of well-differentiated hepatocellular neoplasms with diffuse glutamine synthetase staining reveals similar genetics across the adenoma to carcinoma spectrum. Mod Pathol. 2019 Jun 12. PMID: 31189995
Wen KW, Umetsu SE, Goldblum JR, Gill RM, Kim GE, Joseph NM, Rabinovitch PS, Kakar S, Lauwers GY, Choi WT. DNA Flow Cytometric and Interobserver Study of Crypt Cell Atypia in Inflammatory Bowel Disease. Histopathology. 2019 Oct. PMID: 31111543
Bean GR, Joseph NM, Folpe AL, Horvai AE, Umetsu SE. Recurrent GNA14 mutations in anastomosing hemangiomas. Histopathology. 2018 Mar 25. PMID: 29574926
Ladwig NR, Schoolmeester JK, Weil L, Chapman JS, Zaloudek C, Umetsu SE. Inflammatory Myofibroblastic Tumor Associated With the Placenta: Short Tandem Repeat Genotyping Confirms Uterine Site of Origin. Am J Surg Pathol. 2018 Mar 02. PMID: 29505427
Umetsu SE, Shafizadeh N, Kakar S. Grading and staging mucinous neoplasms of the appendix: a case series and review of the literature. Hum Pathol. 2017 11; 69:81-89. PMID: 28970138
Bean GR, Joseph NM, Gill RM, Folpe AL, Horvai AE, Umetsu SE. 2017 Recurrent GNAQ mutations in anastomosing hemangiomas. Mod Path. May;30(5):722-727.