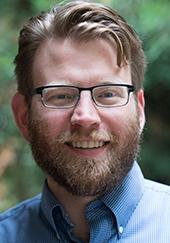 Ryan M. Gill, MD, PhD
Director of Surgical Pathology; Medical Director, Anatomic Pathology Laboratories, Moffitt-Long Hospital; Professor, Department of Pathology
Pathology
Specialty Areas
Surgical Pathology
Liver Pathology
Gastrointestinal Pathology
Hematopathology
Placental Pathology
UCSF
Pathology, Box 0102
505 Parnassus Avenue, Room M-590
San Francisco, CA 94143
United States
Hospital Affiliations
UCSF Parnassus Heights
UCSF Mission Bay
Research and Clinical Interests
Dr. Ryan Gill is a surgical pathologist at UCSF Medical Center who specializes in the diagnosis and evaluation of adult and pediatric liver disease, liver transplantation, inflammatory bowel disease, and liver and gastrointestinal tract neoplasia and lymphoma. In his research, he focuses on diagnosis, prognosis and treatment options for medical liver disease (in particular NASH), liver transplantation, inflammatory bowel disease, liver/GI neoplasia, and extranodal lymphoma. Dr. Gill received an M.D. and Ph.D. at the University of Kansas in Kansas City, KS. He then completed a combined anatomic and clinical pathology residency, followed by fellowships in hematopathology and liver and gastrointestinal pathology at UCSF. Dr. Gill is a member of several professional organizations, including the Hans Popper Hepatopathology Society, the Rodger C. Haggitt Gastrointestinal Pathology Society, the Pancreatobiliary Pathology Society, and the United States and Canadian Academy of Pathology. Dr. Gill is an elected member of the International Liver Pathology Study Group (ELVES). Dr. Gill has published numerous book chapters and peer-reviewed articles on liver and gastrointestinal pathology and lectures around the world. He is a Professor, and the Director of Surgical Pathology, in the UCSF Department of Pathology.
Selected Publications
Joseph NM, Brunt EM, Marginean C, Nalbantoglu I, Snover DC, Thung SN, Yeh MM, Umetsu SE, Ferrell LD, Gill RM. Frequent GNAQ and GNA14 Mutations in Hepatic Small Vessel Neoplasm. Am J Surg Pathol. 2018 Jul 3. doi: 10.1097/PAS.0000000000001110. [Epub ahead of print] PubMed PMID: 29975248.
Roberts DE, Kakar S, Mehta N, Gill RM. A Point-based Histologic Scoring System for Hepatocellular Carcinoma Can Stratify Risk of Posttransplant Tumor Recurrence. Am J Surg Pathol. 2018 Jul;42(7):855-865. doi:10.1097/PAS.0000000000001053. PubMed PMID: 29649017.
Choi WT, Wen KW, Rabinovitch PS, Huang D, Mattis AN, Gill RM. DNA content analysis of colorectal serrated lesions detects an aneuploid subset of inflammatory bowel disease-associated serrated epithelial change and traditional serrated adenomas. Histopathology. 2018 May 17. doi: 10.1111/his.13652. [Epub ahead of print] PubMed PMID: 29772067.
Tsai JH, Ferrell LD, Tan V, Yeh MM, Sarkar M, Gill RM. Aggressive non-alcoholic steatohepatitis following rapid weight loss and/or malnutrition. Mod Pathol. 2017 Jun;30(6):834-842. doi: 10.1038/modpathol.2017.13. Epub 2017 Mar 3. PubMed PMID: 28256569; PubMed Central PMCID: PMC5935795.
Choi WT, Jen KY, Wang D, Tavakol M, Roberts JP, Gill RM. Donor Liver Small Droplet Macrovesicular Steatosis is Associated with Increased Risk for Recipient Allograft Rejection. American Journal of Surgical Pathology, 2017, Jan 4. doi: 10 .1097 /PAS. 0000000000000802.
PubMed Link: https://www.ncbi.nlm.nih.gov/myncbi/collections
/bibliography/49625401/