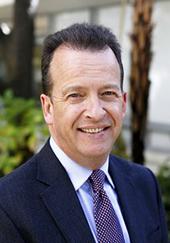 Richard C.K. Jordan, DDS, PhD, FRCPath
Professor of Oral Pathology, Patholology & Radiation Oncology, UCSF Dermatopathology & Oral Pathology Service
Pathology
Specialty Areas
Oral Pathology
Head and Neck Pathology
UCSF
Pathology, Box 1790
1701 Divisadero Street, Suite 280
San Francisco, CA 94143
United States
Other UCSF Organizational Association(s)
Department of Orofacial Sciences
Helen Diller Family UCSF Comprehensive Cancer Center
Research and Clinical Interests
Head and neck pathology, HPV, oral dysplasia, radiation oncology
Selected Publications
Bhattacharya A, Roy R, Snijders AM, Hamilton G, Paquette J, Tokuyasu T, Bengtsson H, Jordan RC, Olshen AB, Pinkel D, Schmidt BL, Albertson DG. Two distinct routes to oral cancer differing in genome instability and risk for cervical node metastasis. Clin Cancer Res. 2011 Nov 15;17(22):7024-34.
Jordan RC, Lingen MW, Perez-Ordonez B, He X, Pickard R, Koluder M, Jiang B, Wakely P, Xiao W, Gillison ML. Validation of Methods for Oropharyngeal Cancer HPV Status Determination in US Cooperative Group Trials. Am J Surg Pathol. 2012 Jul;36(7):945-954.
Gillison ML, Zhang Q, Jordan RC, Xiao W, Westra WH, Trotti A, Spencer S, Harris J, Chung CH, Ang KK. Tobacco Smoking and Increased Risk of Death and Progression for Patients With p16-Positive and p16-Negative Oropharyngeal Cancer. Journal of clinical oncology: official journal of the American Society of Clinical Oncology 2012 Jun 10;30(17):2102-11.
Kong CS, Cao H, Kwok S, Nguyen CM, Jordan RC, Beaudry VG, Attardi LD, Le QT. Loss of the p53/p63 target PERP is an early event in oral carcinogenesis and correlates with higher rate of local relapse. Oral Surg Oral Med Oral Pathol Oral Radiol. 2013 Jan; 115(1):95-103. PMID: 23217540
Chung CH, Zhang Q, Kong CS, Harris J, Fertig EJ, Harari PM, Wang D, Redmond KP, Shenouda G, Trotti A, Raben D, Gillison ML, Jordan RC, Le QT p16 protein expression and human papillomavirus status as prognostic biomarkers of nonoropharyngeal head and neck squamous cell carcinoma. J Clin Oncol. 2014 Dec 10;32(35):3930-8.