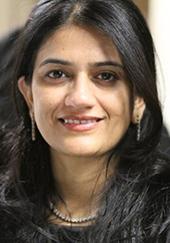 Poonam Vohra, MD
Associate Professor
Pathology
Division
Surgical Pathology
Cytopathology
Specialty Areas
Surgical Pathology
Cytopathology
Fine Needle Aspiration
Ultrasound Guidance
Breast Pathology
UCSF
Pathology, ZSFG, Building 3, Room 103
1001 Potrero Avenue
San Francisco, CA 94110
United States
Hospital Affiliations
Zuckerberg San Francisco General Hospital
UCSF Mission Bay
Research and Clinical Interests
My clinical interest is mainly in breast pathology and cytopathology including exfoliative and fine needle aspiration cytology. I perform and interpret fine needle aspiration (FNA) biopsies including ultrasound guided FNA. I am also actively involved in general pathology sign-out. My research interests include the areas of cytology and breast pathology.
Selected Publications
Chan E, Balassanian R, Tabatabai ZL, Lou H, Vohra P. Improved Diagnostic Precision of Urine Cytology by Implementation of The Paris System and the Use of Cell Blocks. Cancer Cytopathol. 2018 Sep 11. PMID: 30203925.
Goldhoff PE, Vohra P, Kolli KP, Ljung BM. Fine Needle Aspiration Biopsy from Liver Lesions Yield Higher Percentage of Tumor Cells for Molecular Studies: A Direct Comparison to Concurrent Core Biopsy. Journal of the National Comprehensive Cancer Network (accepted for publication). 2019.
Can NT, Grenert JP, Vohra P. Concomitant Epstein-Barr Virus-associated smooth muscle tumor and granulomatous inflammation of the liver. Pathol Res Pract. 2017 Oct; 213(10):1306-1309. PMID: 28756985.
Vohra P, Buelow B, Chen YY, Serrano M, Vohra P, Berry A, Ljung BM. ER, PR, and HER2 Expression in Breast Cancer Fine Needle Aspiration Cell Blocks and Paired Histologic Specimens - a Large Retrospective Study. Cancer Cytopathology 2016 Nov;124(11):828-835. PMID: 27315045.
Rabban JT, Vohra P, Zaloudek CJ. Nongynecologic metastases to fallopian tube mucosa: a potential mimic of tubal high-grade serous carcinoma and benign tubal mucinous metaplasia or nonmucinous hyperplasia. Am J Surg Pathol. 2015 Jan; 39(1):35-51. PMID: 25025442.