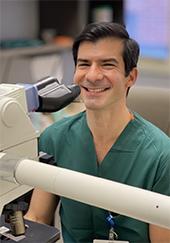 Peyman Zaman Samghabadi, MD
Assistant Professor
Pathology
Division
Anatomic Pathology
Cytopathology
Neuropathology
Specialty Areas
Surgical Pathology
Cytopathology
Neuropathology
UCSF
1001 Potrero Avenue
Building 3, Room 1002
San Francisco, CA 94110
United States
Hospital Affiliations
UCSF Parnassus Heights
Zuckerberg San Francisco General Hospital
Research and Clinical Interests
My clinical interests lie in performance of fine needle aspiration- surgical neuropathology, muscle and nerve pathology, and salivary gland pathology. My research interests include diffuse traumatic axonal injury and the interface between cytology and molecular pathology.
Selected Publications
Jangam D, Sridhar K, Butzmann A, Samghabadi P, Plowey ED, Ohgami RS. TBL1XR1 Mutations in Primary Marginal Zone Lymphomas of Ocular Adnexa are Associated with Unique Morphometric Phenotypes. Curr Eye Res. 2020 Dec;45(12):1583-1589. doi: 10.1080/02713683.2020.1762228. Epub 2020 Jun 19.
Nitta RT, Bolin S, Luo E, Solow-Codero DE, Samghabadi P, Purzner T, Aujla PS, Nwagbo G, Cho YJ, Li G. Casein kinase 2 inhibition sensitizes medulloblastoma to temozolomide. Oncogene. 2019 Oct;38(42):6867-6879. doi: 10.1038/s41388-019-0927-y. Epub 2019 Aug 12.
Iv M, Samghabadi P, Holdsworth S, Gentles A, Rezaii P, Harsh G, Li G, Thomas R, Moseley M, Daldrup-Link HE, Vogel H, Wintermark M, Cheshier S, Yeom KW. Quantification of Macrophages in High-Grade Gliomas by Using Ferumoxytol-enhanced MRI: A Pilot Study. 2019 Jan;290(1):198-206. doi: 10.1148/radiol.2018181204. Epub 2018 Nov 6.