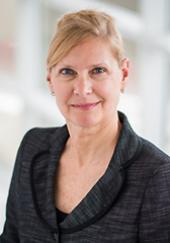 Michele M. Bloomer, MD
Professor
Pathology
Specialty Areas
Ocular Pathology; Ocular Oncology
Other UCSF Organizational Association(s)
Research and Clinical Interests
As director of one of the world's top eye pathology laboratories, UCSF Ocular Pathology, Dr. Bloomer consults with ophthalmologists across the country to diagnose complex and unusual eye diseases. In mentoring residents, Dr. Bloomer shares her commitment to pathology, hopes to spark excitement in younger doctors and teaches gratitude for high quality vision care.
Selected Publications
Sutra P, Rose-Nussbaumer J, Gonzales JA, Wang K, Hinterwirth A, Seitzman G, Bloomer M, Acharya N, Doan T. Metagenomic Deep Sequencing to Investigate for an Infectious Etiology of Iridocorneal Endothelial Syndrome. Cornea. 2020 Oct;39(10):1307-1310. doi: 10.1097/ICO.0000000000002368. PMID: 32398422; PMCID: PMC7483698.
Moussa K, Feinstein M, Pekmezci M, Lee JH, Bloomer M, Oldenburg C, Sun Z, Lee RK, Ying GS, Han Y. Histologic Changes Following Continuous Wave and Micropulse Transscleral Cyclophotocoagulation: A Randomized Comparative Study. Transl Vis Sci Technol. 2020 Apr 28;9(5):22. doi: 10.1167/tvst.9.5.22. PMID: 32821494; PMCID: PMC7401863.
Afshar AR, Pekmezci M, Bloomer MM, Cadenas NJ, Stevers M, Banerjee A, Roy R, Olshen AB, Van Ziffle J, Onodera C, Devine WP, Grenert JP, Bastian BC, Solomon DA, Damato BE. Next-Generation Sequencing of Retinoblastoma Identifies Pathogenic Alterations beyond RB1 Inactivation That Correlate with Aggressive Histopathologic Features. Ophthalmology. 2020 Jun;127(6):804-813. doi: 10.1016/j.ophtha.2019.12.005. Epub 2019 Dec 12. PMID: 32139107; PMCID: PMC7246167.
North JP, Solomon DA, Golovato J, Bloomer M, Benz SC, Cho RJ. Loss of ZNF750 in ocular and cutaneous sebaceous carcinoma. J Cutan Pathol. 2019 Oct;46(10):736-741. doi: 10.1111/cup.13516. Epub 2019 Jul 8. PMID: 31148199; PMCID: PMC6744339.
Samy KE, Cao Y, Kim J, Konichi da Silva NR, Phone A, Bloomer MM, Bhisitkul RB, Desai TA. Co-Delivery of Timolol and Brimonidine with a Polymer Thin-Film Intraocular Device. J Ocul Pharmacol Ther. 2019 Mar;35(2):124-131. doi: 10.1089/jop.2018.0096. Epub 2019 Jan 7. PMID: 30615539; PMCID: PMC6450452.
Desai SJ, Pruzan NL, Geske MJ, Jeng BH, Bloomer MM, Vagefi MR. Local and Regional Spread of Primary Conjunctival Squamous Cell Carcinoma. Eye Contact Lens. 2018 Sep;44 Suppl 1:S312-S315. doi: 10.1097/ICL.0000000000000264. PMID: 27058828.