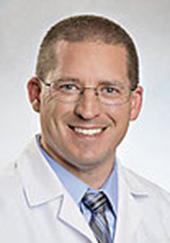 Matthew D. Stachler, MD, PhD
Assistant Professor
Pathology
Specialty Areas
Surgical Pathology
Hematopathology
Endocrine Pathology
UCSF
Pathology, Box 0502
513 Parnassus Avenue, Room HSW-450B
San Francisco, CA 94143
United States
Research and Clinical Interests
The Stachler Lab works to understand the process of premalignant progression to invasive cancer. Specifically focusing on cancers (esophageal and gastric adenocarcinoma) and pre-malignant conditions (columnar and intestinal metaplasia or Barrett's esophagus) of the upper gastrointestinal tract as a model system. As a disease that is often closely monitored and sampled, Barrett's esophagus and esophageal adenocarcinoma provides an idea system to study the changes leading up to and driving invasive disease. Additionally, Barrett's esophagus and esophageal adenocarcinoma are extremely important dieses to understand in their own as esophageal adenocarcinoma has one of the fastest rising incidences of any solid tumor and despite our understanding that it arises from a metaplastic field, we still do an extremely poor job of identifying patients early before advanced disease develops. We have taken the approach to first understand the factors important in human tissues through advanced 'omics' and digital imaging approaches and then use this understanding to build model systems and functional studies. It is our goal to use the knowledge and understanding gained in these studies to develop novel biomarkers, screening strategies, and treatments to identify and treat people early before advanced disease develops.
We are a highly collaborative lab and are always interested in hearing about how groups (both academic and non-academic) can bring together diverse technologies to better understand and treat human disease.
Selected Publications
Stachler, MD., Taylor-Weiner, A., Peng, S., McKenna, A., Leshchiner, I., Stewart, C., Stojanov, P.,Chauvin, S., Lawrence, M.S., Ferrer-Torres, D., Lin, J., Chang, A.C., Gabriel, S.B., Lander, E.S., Beer, D.G., Carter*, S.L., Getz*, G., Bass*, A.J. Paired Exome Analysis of Barrett's Esophagus and Adenocarcinoma Reveals Distinct Paths to Cancer. Nature Genetics. 2015 Sep;47(9):1047-55.
Pectasides E, Stachler MD, Derks S, Liu Y, Maron S, Islam M, Alpert L, Kwak H, Kindler H, Polite B, Sharma MR, Allen K, O'Day E, Lomnicki S, Maranto M, Kanteti R, Fitzpatrick C, Weber C, Setia N, Xiao SY, Hart J, Nagy R, Kim KM, Choi MG, Min BH, Nason KS, O'Keefe L, Watanabe M, Baba H, Lanman R, Agoston AT, Oh DJ, Dunford A, Thorner AR, Ducar MD, Wollison BM, Coleman HA, Ji Y, Posner MC, Roggin KK, Turaga K, Chang P, Hogarth K, Siddiqui U, Gelrud A, Ha G, Freeman SS, Rhoades J, Reed S, Gydush G, Rotem D, Davison J, Imamura Y, Adalsteinsson V, Lee J, Bass AJ, Catenacci DV. Genomic Heterogeneity as a Barrier to Precision Medicine in Gastroesophageal Adenocarcinoma. Cancer Discov. 2018 8(1):37-48.
Stachler MD, Camarda ND, Deitrick C, Kim A, Agoston AT, Odze RD, Hornick JL, Nag A, Thorner AR, Ducar M, Noffsinger A, Lash RH, Redston M, Carter SL*, Davison JM*, Bass AJ*. Detection of Somatic Mutations in Barrett's Esophagus Prior to Progression to High-grade Dysplasia or Adenocarcinoma. Gastroenterology. 2018 155(1):156-67.
Soong RT , Nayor J, Stachler M, Perencevich M, Jajoo K, Saltzman J, Lindeman NI, Srivastava A. Clinicopathologic and Genetic Characteristics of Interval Colorectal Carcinomas favor origin from missed or incompletely excised precursors. Mod Pathol 2018 (In Press).
Qureshi AP, Stachler MD, Haque O, Odze RD. Biomarkers for Barrett's esophagus - a contemporary review. Expert Rev Mol Diagn. 2018 Nov;18(11):939-946.
Awards
2007 Interprofessional Council Career Development Award The Ohio State University College of Medicine (research award)
2007 The Edward J. Ray travel Award for Scholarship and Service The Ohio State University College of Medicine
2008 MD/PhD Leadership and Academic Achievement Scholarship The Ohio State University College of Medicine (Achievements in academics, leadership, and service)
2016 Loan Repayment Program Award National Institute of Health (Awarded to highly qualified health professionals performing clinical research)
2017 Pathology of Mouse Models for human Disease Scholarship The Jackson Laboratory
2018 Loan Repayment Program Award National Institute of Health (Awarded to highly qualified health professionals performing clinical research)