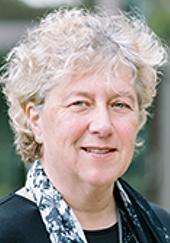 Laura J. Van't Veer, PhD
Professor Laboratory Medicine, Leader Breast Oncology Program, Director Applied Genomics
Laboratory Medicine
Specialty Areas
Breast Cancer
Applied Genomics
UCSF
Laboratory Medicine, Box 0808
2340 Sutter Street, Room N-415
San Francisco, CA 94143
United States
Other UCSF Organizational Association(s)
Helen Diller Family Comprehensive Cancer Center
Department of Pathology
Department of Radiology
Research and Clinical Interests
I am a world-renowned Molecular Biologist, and Leader of the Breast Oncology Program and Associate Director Applied Genomics at the HDFCCC. I am the former Head of Diagnostic Oncology of the Netherlands Cancer Institute, and inventor of MammaPrint. My research focuses on personalized medicine, and aims to advance patient management based on knowledge of the genetic makeup of the tumor as well as the genetic makeup of the patient. My laboratory at UCSF has a strong research line investigating human kinases and studies how kinase inhibitors elicit response and resistance. I am the UCSF Precision Medicine Platform convener for cancer. I chair the Biomolecular Committee of the I-SPY 2 trial ensuring CLIA compliant companion diagnostics. I am the Principal Investigator of the Athena Breast Health Network at UCSF, a 150,000-women cohort study evaluating new paradigms to enhance breast health for which I lead the targeted genome testing for 65,000 women for nine breast cancer susceptibility genes and a selection of ~100 known susceptibility Single Nucleotide Polymorphisms (SNPs). I am one of the PIs for the NIH Big Data to Knowledge Center on Genomics, facilitating worldwide standardization of sharing annotated genomics data. My role as chair of the AACR Diagnostic Policy committee and chair of the Scientific Advisory Committee of the National Biomarker Development Alliance underscores my lead role in this area.
Selected Publications
Van't Veer, L.J., Dai, H., Van de Vijver, M.J., He, Y.D., Hart, A.A.M., Mao, M., Peterse, J.L., Van der Kooij, K., Marton, M.J., Witteveen, A.T., Schreiber, G.J., Kerkhoven, R.M., Roberts, C., Linsley, P.S., Bernards, R., Friend, S.H. Gene expression profiling of breast cancer predicts clinical outcome of disease. Nature 2002; 615: 530-536.
Van de Vijver MJ, He YD, Van 't Veer LJ, Dai H, Hart AAM, Voskuil D, Schreiber GJ, Peterse JL, Roberts C, Marton MJ, Parrish M, Atsma D, Witteveen A, Glas A, Delahaye L, van der Velde T, Bartelink H, Rodenhuis S, Rutgers ETh, Friend SH, Bernards R. A gene expression signature as a predictor of survival in breast cancer. New England J Med 2002; 347: 1999-2009.
Schmidt, M.K., Tollenaar, R.A.E.M., De Kemp, S., Broeks, A., Cornelisse, C.J., Smit, V.T.H.B.M., Peterse, J.L., Van Leeuwen, F.E., Van 't Veer, L.J. Breast cancer survival and tumor characteristics in premenopausal women carrying the CHEK2*1100delC germline mutation. J Clin Oncol. 2007; 25: 64-69.
Van't Veer, LJ, Bernards, R. Enabling personalized cancer medicine through analysis of gene-expression patterns. Nature 2008; 452: 564-570.
Mook, S, Schmidt, MK, Rutgers, EJ, van de Velde, AO, Visser, O, Rutgers, SM, Armstrong, N, Van't Veer, LJ, Ravdin, PM. Calibration and discriminatory accuracy of prognosis calculation for breast cancer with the online Adjuvant! program: a hospital-based retrospective cohort study. Lancet Oncol 2009; 10: 1070-1076.
Awards
2005 International Agency for Research on Cancer (IARC) Medal of Honor, Lyon, France
2006 Van der Scheuren award lecture for European Breast Cancer Research, EBCC5
2007 European Society Medical Oncology (ESMO) Lifetime Achievement Award for Translational Research in Breast Cancer
2007 – 2010 Breast Cancer Research Fund (BCRF-Pink Ribbon US) grant award
2009 First Annual Harry and Edith Gladstein Award, Indiana University, School of Medicine