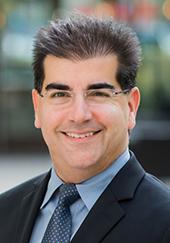 Joseph Thomas Rabban III, MD, MPH
Director, Gynecologic Pathology Fellowship
Pathology
UCSF
Pathology, Box 4066
1825 4th Street, Room M2359
San Francisco, CA 94143
United States
Research and Clinical Interests
My primary clinical specialty is diagnostic gynecologic surgical pathology, encompassing biopsies and surgical resections of both benign and malignant diseases of the ovary, fallopian tubes, uterus, peritoneum, vagina, vulva, as well as gestational trophoblastic disease. My main patient population consists of women who are seeking care at the UCSF Gynecologic Oncology division, OB/Gyn division, and Center for Reproductive Health. As a member of the UCSF Multidisciplinary Gynecologic Oncology Tumor Board, I work closely with surgeons, oncologists, and radiation oncologists to provide multidisciplinary recommendations for patient care. As a member of the UCSF Cancer Risk Program, I work closely with genetic counselors and gynecologic oncologists to provide multidisciplinary recommendations for assessing risk for hereditary basis of disease in women with gynecologic pathology. In addition I provide diagnostic consultation services to pathologists at institutions other than UCSF who request a second opinion on a gynecologic surgical pathology specimen. My secondary clinical specialty is diagnostic breast surgical pathology.
My clinical research focuses on differential diagnostic criteria and tumor classification in gynecologic disease, as well as pathologic phenotype-genotype correlation of inherited gynecologic cancers, particularly those associated with BRCA and Lynch syndromes. I enjoy mentoring fellows, residents, and medical students interested in research and am always enthusiastic to meet with any fellow, resident or medical student who would like to discuss getting involved in a project together.
My teaching emphasis is diagnostic gynecologic surgical pathology at the level of continuing medical education for practicing pathologists at national and international courses.
I direct the UCSF Fellowship in Gynecologic Surgical Pathology.
I serve on the Board of Directors of the International Society of Gynecological Pathologists and am the Co-Chair of the educational committee. I am an associate editor of the International Journal of Gynecological Pathology and an editor of the 5th edition World Health Classification System of Tumors of the Female Genital Tract. I also serve on the educational committee of the International Gynecological Cancer Society.
Selected Publications
Rabban JT, Chan E, Mak J, Zaloudek C, Garg K. Prospective Detection of Germline Mutation of Fumarate Hydratase in Women with Uterine Smooth Muscle Tumors Using Pathology-based Screening to Trigger Genetic Counseling for Hereditary Leiomyomatosis Renal Cell Carcinoma Syndrome: A 5-Year Single Institutional Experience. Am J Surg Pathol. 2019;43:639-655. PMID: 30741757
Rabban JT, Gilks CB, Malpica A, Matias-Guiu X, Mittal K, Mutter GL, Oliva E, Parkash V, Ronnett BM, Staats P, Stewart CJR, McCluggage WG. Issues in the Differential Diagnosis of Uterine Low-Grade Endometrioid Carcinoma, Including Mixed Endometrial Carcinomas: Recommendations from the International Society of Gynecological Pathologists. Int J Gynecol Pathol. 2019; 38: S25-39. PMID: 30550482
Rabban JT, Garg K, Crawford B, Chen LM, Zaloudek CJ. Early Detection of High Grade Tubal Serous Carcinoma in Women at Low Risk for Hereditary Breast and Ovarian Cancer Syndrome By Systematic Examination of Fallopian Tubes Incidentally Removed During Benign Surgery. Am J Surg Pathol 2014; 38: 729-742
Wolsky RJ, Price MA, Zaloudek CJ, Rabban JT. Mucosal Proliferations in Completely Examined Fallopian Tubes Accompanying Ovarian Low Grade Serous Tumors: Neoplastic Precursor Lesions or Normal Variants of Benign Mucosa ? Int J Gynecol Pathol. 2018; 37: 262-274. PMID: 28700429
Joseph NM, Pineda C, Rabban JT. DNA Genotyping of Non-Molar Donor Egg Pregnancies with Abnormal Villous Morphology: Allele Zygosity Patterns Prevent Misinterpretation as Complete Hydatidiform Mole. Int J Gynecol Pathol. 2018; 37: 191-197. PMID: 28463912