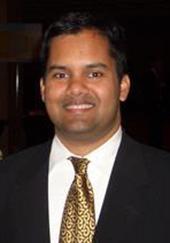 Jayanta Debnath, MD
Professor and Chair
Pathology
UCSF
Pathology, Box 0506
505 Parnassus Avenue, Suite M-590
San Francisco, CA 94143
United States
Other UCSF Organizational Association(s)
Biomedical Sciences Graduate Program
UCSF Comprehensive Cancer Center
Research and Clinical Interests
My laboratory focuses on how autophagy, a fundamental catabolic process in which a cell literally "eats itself", contributes to cell survival and cancer progression. In eukaryotic cells, autophagy functions as a critical survival and metabolic adaptation pathway during stress. As a result, there is immense interest in manipulating autophagy to treat human diseases, such as cancer. We utilize cell biological, biochemical and proteomics approaches combined in vivo murine cancer models to pursue the following research goals: 1) Determine the role of autophagy in cancer metabolism, cell survival and oncogenic transformation. 2) Delineate the role of autophagy in breast cancer progression and metastasis in vivo. 3) Dissect the biological and biochemical functions of the molecules that control autophagy (called ATGs) to ultimately exploit this process for therapeutic benefit.
Selected Publications
M.R. Warr, M. Binnewies, J. Flach, D. Reynaud, T. Garg, R. Malhotra, J. Debnath, and E. Passegué. FoxO3a Directs a Protective Autophagy Program in Hematopoietic Stem Cells. Nature. 494 (7437): 323-7, 2013.
R. Lock, C.M. Kenific, A.M. Leidal, E. Salas, and J. Debnath. Autophagy dependent production of secreted factors facilitates RAS-driven invasion. Cancer Discovery. 4 (4): 466-79, 2014.
L. Murrow, R. Malhotra, and J. Debnath. ATG12—ATG3 Interacts with Alix to Promote Basal Autophagic Flux and Late Endosome Function. Nature Cell Biol. 17 (3): 300-10, 2015.
J.M. Kimmey, J.P. Huynh, L.A. Weiss, S. Park, A. Kambal , J. Debnath, H.W. Virgin, and C.L. Stallings. Unique role for ATG5 in neutrophil-mediated immunopathology during Mycobacterium tuberculosis infection. Nature. 528:565-9, 2015.
C.M. Kenific, S.J. Stehbens, J. Goldsmith, A.M. Leidal, N. Faure, J. Ye, T. Wittmann, and J. Debnath. NBR1 Enables Autophagy-Dependent Focal Adhesion Turnover. J. Cell Biol. 212(5): 577-590, 2016.
Roy. S, Leidal A, Ye J, Ronen S, and Debnath J. Autophagy-Dependent Shuttling of TBC1D5 Controls Plasma Membrane Translocation of Glut1 and Glucose Uptake. Molecular Cell. S1097-2765(17)30360-X, 2017.
Awards
2006 Charles E. Culpeper Scholarship in Medical Sciences
2006 Howard Hughes Medical Institute Physician-Scientist Early Career Award
2006 American Association of Cancer Research-Genentech BioOncology Career Award
2011 Department of Defense Breast Cancer Era of Hope Scholar Award
2013 Samuel Waxman Cancer Research Foundation Award
2013 Elected Member, American Society of Clinical Investigation
2016 Keith Porter Fellow (Mid-career award), American Society for Cell Biology