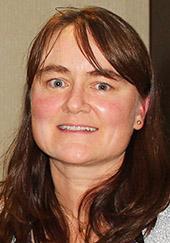 Hilde Schjerven, PhD
Assistant Adjunct Professor
Laboratory Medicine
Specialty Areas
Transcriptional Regulation
Immunology
Hematopoietic Development
Leukemia
Disease of the Immune System
UCSF
Laboratory Medicine, Box 0451
513 Parnassus Avenue, Room S-1479
San Francisco, CA 94143
United States
Research and Clinical Interests
The development of blood cells (hematopoiesis) depends on a complex series of events that involves many regulatory processes. Blood cancer or immunological diseases can develop if these developing cells have loss of function or gain of function mutations in genes that control development, function, growth or survival.
Ikaros (encoded by the IKZF1 gene) is a transcription factor that is required for proper development of many different blood cell lineages. It is also an important tumor suppressor in certain subtypes of pre-B ALL (leukemia) and is implicated in other human immunological diseases through recent GWAS studies.
The overall research interest is in transcriptional regulation in the immune system during development and disease, and the current ongoing and proposed future research is focused on the role of the zinc finger (ZnF) transcription factor Ikaros. Studies use in vitro and in vivo models and also include the use of genome-wide analysis of DNA-binding and chromatin status (ChIP-Seq) as well as gene expression analysis (RNA-Seq). By increasing our knowledge about the molecular mechanism of action of key transcription factors in both normal development and disease, we might guide the development of targeted therapies for diseases where known transcriptional regulators are mutated.
Selected Publications
Reynaud D, Demarco IA, Reddy KL, Schjerven H, Bertolino E, Chen Z, Smale ST, Winandy S, Singh H. Regulation of B cell fate commitment and immunoglobulin heavy-chain gene rearrangements by Ikaros. Nat Immunol. 2008 Aug; 9(8):927-36. PMID: 18568028
Schjerven H, McLaughlin J, Arenzana TL, Frietze S, Cheng D, Wadsworth SE, Lawson GW, Bensinger SJ, Farnham PJ, Witte ON, Smale ST. Selective regulation of lymphopoiesis and leukemogenesis by individual zinc fingers of Ikaros. Nat Immunol. 2013 Oct;14(10):1073-83. PMID: 24013668
Heller JJ, *Schjerven H, Li S, Lee A, Qiu J, Chen ZM, Smale ST, *Zhou L. Restriction of IL-22-Producing T Cell Responses and Differential Regulation of Regulatory T Cell Compartments by Zinc Finger Transcription Factor Ikaros. J Immunol. 2014 Oct 15;193(8):3934-46. PMID: 25194055 * Co-corresponding authors.
Buchner M, Park E, Geng H, Klemm L, Flach J, Passegué E, Schjerven H, Melnick A, Paietta E, Kopanja D, Raychaudhuri P, Müschen M. Identification of FOXM1 as a therapeutic target in B-cell lineage acute lymphoblastic leukaemia. Nat Commun. 2015; 6:6471. PMID: 25753524. PMCID: PMC4366523
Arenzana, TL, Schjerven H, and Smale ST. Regulation of gene expression dynamics during developmental transitions by the Ikaros transcription factor, Genes & Development, 2015 (accepted)
For a complete list through PubMed: