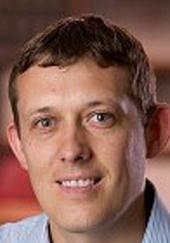 Graham Simmons, PhD
Associate Professor
Laboratory Medicine
Division
Vitalant Research Institute
Specialty Areas
Viral Entry
Emerging Viral Pathogens
Vitalant Research Institute
270 Masonic Avenue
San Francisco, CA 94118
United States
Research and Clinical Interests
The research in my laboratory focuses on newly emerging infectious diseases, particularly those that may be transmitted by blood transfusion, such as arboviruses. Of particular interest are the mechanisms of viral attachment and entry, and the identification and use of small molecules and antibodies to inhibit this process. For example, we are in the process of characterizing novel small molecule inhibitors of corona-, filo- and paramyxoviruses that interfere with a necessary endosomal proteolytic event mediated by host proteases. The lab is also skilled in the identification and characterization of human neutralizing antibodies to various viral pathogens including alphaviruses, flaviviruses and rhabdoviruses. Furthermore, we are studying the development of these responses in acute and chronic infection, as well as vaccinees.
Selected Publications
Glynn SA, Busch MP, Dodd RY, Katz LM, Stramer SL, Klein HG, Simmons G, Kleinman SH, Shurin SB. Emerging infectious agents and the nation's blood supply: responding to potential threats in the 21st century. Transfusion. 2013 Feb; 53(2):438-54.
Salvador B, Sexton NR, Carrion R, Nunneley J, Patterson JL, Steffen I, Lu K, Muench MO, Lembo D, Simmons G. Filoviruses utilize glycosaminoglycans for their attachment to target cells. J Virol. 2013 Mar; 87(6):3295-304.
Gierer S, Bertram S, Kaup F, Wrensch F, Heurich A, Krämer-Kühl A, Welsch K, Winkler M, Meyer B, Drosten C, Dittmer U, von Hahn T, Simmons G, Hofmann H, Pöhlmann S. The spike-protein of the emerging betacoronavirus EMC uses a novel coronavirus receptor for entry, can be activated by TMPRSS2 and is targeted by neutralizing antibodies. J Virol. 2013 May;87(10):5502-11.
Steffen I, Liss NM, Schneider BS, Fair JN, Chiu CY, Simmons G. Characterization of the Bas-Congo virus glycoprotein and its function in pseudotyped viruses. J Virol. 2013 Sep;87(17):9558-68.
Selvarajah S, Sexton S, Kahle KM, Fong RH, Mattia KA, Gardner J, Lu K, Liss NM, Salvador B, Tucker DF, Barnes T, Mabila M, Zhou X, Rossini G, Rucker JB, Sanders DA, Suhrbier A, Sambri V, Michault A, Muench MO, Doranz BJ, Simmons G. A neutralizing monoclonal antibody targeting the acid-sensitive region in chikungunya virus E2 protects from disease. PLoS Negl Trop Dis (2013).