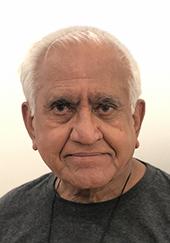 Girish N. Vyas, PhD, FRCPath
Professor
Laboratory Medicine
Specialty Areas
Virology/Immunology of Blood-borne Infections
Immune Prophylaxis Against HIV Infection
UCSF
Laboratory Medicine, Box 0134
185 Berry Street, Suite 350
San Francisco, CA 94143
United States
Other UCSF Organizational Association(s)
UCSF Liver Center
AIDS Research Institute
Selected Publications
Tiollais P, Charnay P and Vyas GN. Biology of hepatitis B virus. Science 1981; 13:406-411.
Busch MP, Eble BA, Khayam-Bashi H, Murphy E, Heilbron D, Kwok S, Sinks J, Perkins HA, Vyas GN. Evaluation of contemporary screened blood donors for occult HIV-1 infection using pooled cell culture and DNA amplification techniques. N Engl J Med 1991; 325:1-5.
Vyas GN. Engaging in the evolution of transfusion medicine from a dispensary into a discipline. Pioneers and Pathfinders, Transfusion Medicine Reviews, 2008; 22:162-167.
Vyas GN, Stoddart C, Killian MS, Brennan T, Goldberg T, Zaiman A, Bryson Y. Derivation of non-infectious envelope proteins from virions isolated from plasma negative for HIV antibodies. Biologicals 2012; 40:15-20.
Stevens CE, Toy, P, Kamili S, Taylor PE, Tong MJ, Xia G-L, Vyas GN. Eradicating hepatitis B virus: The critical role of preventing perinatal transmission. Biologicals. 2017; 50:3-19.
Awards
1969 Jean Julliard Prize of the International Society of Blood Transfusion