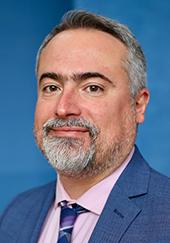 Georgios Deftereos, MD
Associate Professor, Pathology; Associate Director, Clinical Cancer Genomics Laboratory; Director, Molecular Cytopathology
Pathology
Specialty Areas
Cytopathology
Molecular Genetic Pathology
UCSF
Pathology, Box 4034
1825 4th Street, Room L2181L
San Francisco, CA 94158
United States
Hospital Affiliations
UCSF Mission Bay
UCSF Mount Zion
Research and Clinical Interests
Cytomorphological and molecular diagnostics of solid tumors. Pre-analytical optimization of pathology specimens for molecular testing.
Selected Publications
Deftereos G, Schmechel SS, Waner EE, Itani M, Dighe MK, Tylee TS. Differential outcomes of patients with thyroid FNA diagnoses of AUS/FLUS with and without nuclear atypia: The potential need for separation in the Bethesda System. Diagn Cytopathol 2020;48:610-617.
Deftereos G, Silverman JF, Krishnamurti U. GATA3 Immunohistochemistry Expression in Histologic Subtypes of Primary Breast Carcinoma and Metastatic Breast Carcinoma Cytology. Am J Surg Pathol 2015;39:1282-9.
Deftereos G, Finkelstein SD, Jackson SA, Ellsworth EMG, Krishnamurti U, Liu Y, Silverman JF, Binkert C, Ujevich B, Mohanty A. The value of mutational profiling of the cytocentrifugation supernatant fluid from fine needle aspiration of pancreatic solid mass lesions. Mod Pathol 2014;27:594-601.
Awards
2016: 40 Under Forty Honoree. American Society for Clinical Pathology