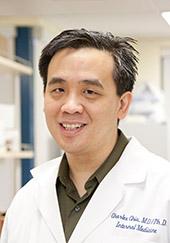 Charles Y. Chiu, MD, PhD
Professor; Associate Director of the UCSF Clinical Microbiology Laboratory
Laboratory Medicine
Specialty Areas
Viral Detection and Discovery
Molecular Diagnostics
Metagenomics
Microarrays and Deep Sequencing
UCSF
Laboratory Medicine, Box 0134
185 Berry Street, Suite 185
San Francisco, CA 94143
United States
Hospital Affiliations
UCSF Parnassus Heights
UCSF Mount Zion
San Francisco VA Health Care System
Other UCSF Organizational Association(s)
Director, UCSF Viral Diagnostics and Discovery Center (http://vddc.ucsf.edu)
Associate Director, UCSF Clinical Microbiology Laboratory
Faculty Member, Biomedical Sciences (bms.ucsf.edu)
QB3 Investigator (www.qb3.org)
Research and Clinical Interests
My interests include the use of metagenomics-based strategies (the Virochip pan-viral microarray and deep sequencing) for the diagnosis and discovery of viruses associated with a variety of acute (e.g. hepatitis, encephalitis, respiratory illness, gastroenteritis) and chronic (e.g. cancer) disease states. Specific ongoing projects in the laboratory include:
Culturing and virological characterization of a novel human cardiovirus, with efforts to generate an infectious clone and clone the receptor
Development of comprehensive tools (Virochip, PLEX-ID, and deep sequencing) for diagnosis of viral encephalitis and meningitis
Broad-based detection of infectious agents in blood by microarrays and deep sequencing
Development of rapid, point-of-care microarray diagnostics for viral pathogens
Selected Publications
Chiu CY, Rouskin S, Koshy A, Urisman A, Fischer K, Yagi S, Schnurr D, Eckburg PB, Tompkins LS, Blackburn BG, Merker JD, Patterson BK, Ganem D, and DeRisi JL. (2006) Microarray Detection of Human Parainfluenza 4 Infection Associated with Respiratory Failure in an Immunocompetent Adult. Clinical Infectious Diseases 43(8):e71-6 (PMID: 16983602).
Chiu CY*, Urisman A*, Greenhow TL, Rouskin S, Yagi S, Schnurr D, Wright C, Drew WL, Wang D, Weintrub PS, DeRisi JL, and Ganem D. (2008) Utility of DNA Microarrays for Detection of Viruses in Pediatric Acute Respiratory Tract Infections. Journal of Pediatrics 45(7):2340-3 (PMID: 18571541).
Chiu CY, Greninger A, Kanada K, Kwok T, Louie J, Glaser C, Yagi S, Schnurr D, Haggerty T, Parsonnet J, Ganem D, and DeRisi JL. (2008) Identification of novel cardioviruses related to Theiler's murine encephalomyelitis virus in human infections. PNAS 105(37):14124-9 (PMID: 18768820).
Sorber K*, Chiu CY*, Webster D, Dimon M, Ruby G, Hekele A, and DeRisi JL. (2008) The long march: a specimen preparation technique that enhances contig length and coverage by high-throughput short-read sequencing. PloS One 3(10):e3495 (PMID: 18941527).
Chiu CY, Greninger AL, Chen EC, Haggerty TD, Parsonnet J, Delwart E, DeRisi JL, and Ganem D. (2010) Cultivation and serological characterization of a human Theiler's-like cardiovirus associated with diarrheal disease. Journal of Virology 84(9):4407-4414 (PMID: 20164225).
Awards
2009 QB3 Rogers Family Foundation Award