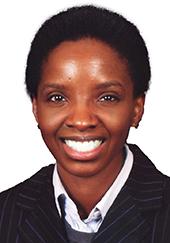 Carolyn Sangokoya, MD, PhD
Instructor
Pathology
Specialty Areas
Surgical Pathology
Liver Pathology
Gastrointestinal Pathology
UCSF
Pathology, Box 0102
505 Parnassus Avenue, Room M-580
San Francisco, CA 94143
United States
Other UCSF Organizational Association(s)
UCSF Women Physician-Scientists
Research and Clinical Interests
Physician-scientist with (translational) mission to advance human liver pathobiology research and diagnostics for precision-based medicine and regenerative therapies.
My clinical interests are primarily liver pathology, with particular interest in liver iron, metabolic liver disease, and etiologies of steatohepatitis and non-alcoholic steatohepatitis (NASH).
As a stem cell biologist with expertise in RNA biology, my basic science research interests are in leveraging genome engineering, quantitative cell biology, RNA sequencing, imaging, and cytometry at single-cell resolution for innovation and discovery in development and reprogramming.
Selected Publications
Sangokoya C, and R Blelloch. MicroRNA-dependent inhibition of PFN2 orchestrates ERK activation and pluripotent state transitions by regulating endocytosis. Proc Natl Acad Sci U S A. 2020 Aug 25;117(34):20625-20635.
Sangokoya C, Telen MJ, and JT Chi. MicroRNA miR-144 modulates oxidative stress tolerance and associates with anemia severity in sickle cell disease. Blood. 2010 Nov 18;116(20):4338-48.
Sangokoya, C, Doss JF, and JT Chi. "Iron-Responsive miR-485-3p Regulates Cellular Iron Homeostasis by Targeting Ferroportin." PLoS Genetics 9.4 (2013): e1003408.
Sangokoya C et al. Expression of the Iron-Regulating MicroRNA miR-485-3p in Hepatic cirrhosis. Laboratory investigation; a journal of technical methods and pathology. 2014 February; 94:427.
Sangokoya C et al. MicroRNA In Situ Hybridization Analysis of MIR-485-3p and MiR-122 Expression in Human Liver Development and Disease. Laboratory investigation; a journal of technical methods and pathology. 2015 February; 95:423A.
LaMonte G, Tang X, Chen JL, Wu J, Ding CK, Keenan MM, Sangokoya C, Kung HN, Ilkayeva O, Boros LG, Newgard CB, and Chi, JT. Acidosis induces reprogramming of cellular metabolism to mitigate oxidative stress. Cancer Metab 1(2013): 23.
Sangokoya C, LaMonte G, Chi JT. Isolation and characterization of microRNAs of human mature erythrocytes. Methods Mol Biol. 2010;667:193-203.

Awards
(2021) John A. Watson Faculty Scholar, UCSF School of Medicine
(2021) NIH/NICHD K08 Mentored Clinical Scientist Research Career Development Award
(2017) UCSF Program for Breakthrough Biomedical Postdoc Independent Research Award
(2016-2019) NIH/NICHD F32 Ruth L. Kirschstein Postdoctoral Individual National Research Service Award
(2015-2016) Eli and Edythe Broad Regeneration Medicine and Stem Cell Fellowship, UCSF
(2015) Stowell Orbison competition (selected best trainee abstracts), USCAP Annual Meeting (San Diego, CA)
(2014) Stowell Orbison competition (selected best trainee abstracts), USCAP Annual Meeting (Boston, MA)
(2012) Dean's Recognition Award, outstanding performance, Duke University School of Medicine