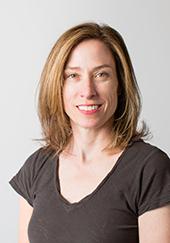 Annemieke van Zante, MD, PhD
Professor; Director of Cytopathology Fellowship
Pathology
Division
Surgical Pathology
Cytopathology
Specialty Areas
Surgical Pathology
Cytopathology
Head and Neck Pathology
Genitourinary Pathology
UCSF
Pathology, Box 4034
1825 4th Street, Room L2181G
San Francisco, CA 94158
United States
Hospital Affiliations
UCSF Parnassus Heights
UCSF Mount Zion
Research and Clinical Interests
I perform and interpret fine needle aspiration (FNA) biopsies at the FNA clinic at Mt. Zion Hospital. I have a particular interest in head and neck pathology and provide consultation for the UCSF Department of Head and Neck Surgery, reviewing both cytologic and surgical specimens in the context of the Multidisciplinary Head and Neck Tumor Board.
My research interest focuses on the biological functions of carbohydrate sulfation. My previous work in this area investigated the role of sulfated glycoproteins in lymphocyte trafficking. My attention has shifted to the role of carbohydrate sulfation in the regulation of growth factor signaling in pancreatic and lung cancer.
Selected Publications
Annemieke van Zante, Jean-Marc Gauguet, Annette Bistrup, Durwin Tsay, Ulrich H. von Andrian, and Steven D. Rosen. 2003. Lymphocyte-HEV interactions in lymph nodes of a sulfotransferase-deficient mouse. The Journal of Experimental Medicine. 198:1289-1300.
Roman Nawroth, Annemieke van Zante, Sara Cervantes, Michael McManus, Matthias Hebrok, and Steven D. Rosen. 2007. Extracellular sulfatases, elements of the Wnt signaling pathway, positively regulate growth and tumorigenicity of human pancreatic cancer cells. PLoS ONE. 2:e392.
Hassan Lemjabbar-Alaoui, Annemieke van Zante, Mark Singer, Qing Xue, Yang Qing, Durwin Tsay, Biao He, David Jablons, and Steven D. Rosen. 2010. Sulf-2, a heparan sulfate endosulfatase, promotes human lung carcinogenesis. Oncogene. 29:635-646.