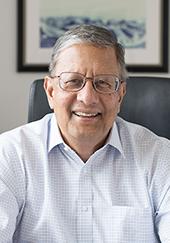 Abul K. Abbas, MBBS
Professor Emeritus
Pathology
Specialty Areas
Immunology
Immunopathology
UCSF
Pathology, Box 0511
513 Parnassus Avenue, Room HSW-450A
San Francisco, CA 94143
United States
Hospital Affiliations
UCSF Parnassus Heights
UCSF Mount Zion
San Francisco VA Health Care System
Zuckerberg San Francisco General Hospital
Other UCSF Organizational Association(s)
Faculty member
BMS Graduate Program
Immunology Graduate Program
Member
UCSF Cancer Center
UCSF Stem Cell Program
Research and Clinical Interests
My research is focused on immunological tolerance and autoimmunity. Using transgenic and knockout mice, my laboratory has explored the mechanisms that maintain tolerance to tissue and systemic self-antigens, and the conditions that lead to the breakdown of self-tolerance and the development of autoimmunity
Selected Publications
Knoechel B, Lohr J, Kahn E, Bluestone JA, and Abbas AK. Sequential development of effector and regulatory T lymphocytes in response to endogenous systemic antigen. J. Exp. Med. 202:1375-1386, 2005.
Rioux JD, and Abbas AK. Paths to understanding the genetic basis of autoimmune disease. Nature 2005; 435:2-7.
Sharpe AH, Abbas AK. T-cell costimulation--biology, therapeutic potential, and challenges. New Engl J Med. 355:973-5, 2006.
O'Gorman, Dooms H, Thorne SH, Kuswanto W, Simonds EF, Krutzik PO, Nolan G, and Abbas AK. The initial phase of an immune response functions to activate regulatory T-cells. J. Immunol. 183:322-9, 2009.
Villarino A, Katzman SD, Gallo E, Miller O, Jiang S, McManus MT and Abbas AK. Posttranscriptional silencing of effector cytokine mRNA underlies the anergic phenotype of self-reactive T cells. Immunity 28:50-60, 2011.
Rosenblum MD, Gratz IK, Paw JS, Lee K, Marshak-Rothstein A and Abbas AK. Response to self antigen imprints regulatory memory in tissues. Nature 180:538-42, 2011.
Klatzmann D, Abbas AK. The promise of low-dose interleukin-2 therapy for autoimmune and inflammatory diseases. Nat Rev Immunol 15:283-94, 2015.
Rosenblum MD, Way SS, Abbas AK. Regulatory T cell memory. Nat Rev Immunol 16:90-101, 2016.
Ali N, Sanchez-Rodriguez R, Zirak B, Pauli M, Truong H, Lai K, Ahn R, Corbin K, Lowe MM, Scharschmidt TC, Taravati K, Tan MR, Ricardo-Gonzalez RR, Nosbaum A, Bertolini M, Liao W, Nestle FO, Paus R, Cotsarelis G, Abbas AK, Rosenblum MD. Regulatory T cells in skin facilitate epithelial stem cell generation. Cell, in press, 2017.
Awards
1968 Nuffield Scholar, University of Leeds Medical School, Leeds, England
1969 Institute Gold Medal, All-India Institute of Medical Sciences, New Delhi, India
1987 Warner-Lambert/Parke-Davis Award, American Association of Pathologists
1988 Irving M. London Teaching Award, Harvard-MIT Division of Health Sciences and Technology
1994 Harvard Medical School Faculty Prize for Excellence in Teaching, Harvard Medical School
1994-04 NIH MERIT Award, NIH
2002 Member, Institute of Medicine, National Academy of Sciences
2003-04 President, American Society of Investigative Pathology
2007 Rous-Whipple Award, American Society of Investigative Pathology
2002, 2008, 2010 Distinguished Teaching Award, Outstanding Lecture Series, UCSF School of Medicine
2009 Fellow, American Academy of Arts and Sciences
2010 Robbins Distinguished Educator Award, American Society of Investigative Pathology
2011-13 President, Federation of Clinical Immunology Societies
2017 Lifetime Achievement in Mentoring Award, UCSF