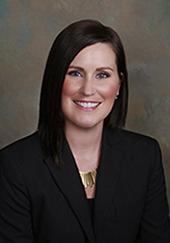 Sarah M. Calkins, MD
Director, UCSF Pathology Residency Training Program; Associate Professor
Pathology
Division
Surgical Pathology
Cytopathology
Specialty Areas
Surgical Pathology
Cytopathology
Fine Needle Aspiration
UCSF
Pathology, Box 4034
1825 4th Street, Room L2181K
San Francisco, CA 94158
United States
Hospital Affiliations
UCSF Mount Zion
UCSF Mission Bay
Selected Publications
Calkins S, Silva F, Tihan T. The role of pathology experts in defining practice gaps in continuing pathology education: what do we need to know and how can we find them? Adv Anat Pathol. 2012 May;19(3):187-90.
Jáuregui EJ, Calkins SM, Kezirian EJ. Heterotopic Ossification and Delayed Foreign Body Reaction after Hyoid Suspension for Obstructive Sleep Apnea. Otolaryngol Head Neck Surg. 2013 Mar;148(3):527-8.
Rabban JT, Calkins SM, Karnezis AN, Grenert JP, Blanco A, Crawford B, Chen LM. Association of Tumor Morphology With Mismatch-repair Protein Status in Older Endometrial Cancer Patients: Implications for Universal Versus Selective Screening Strategies for Lynch Syndrome. Am J Surg Pathol. 2014 Jun;38(6):793-800.
Cinar P, Calkins SM, Venook AP, Kelley RK. A case series of patients with HER2-overexpressed primary metastatic gastroesophageal adenocarcinoma. Anticancer Res. 2014 Dec;34(12):7357-60.
Singer L, Calkins SM, E Horvai A, R Ryan W, Yom SS. Xanthogranuloma in the heavily irradiated low neck in a patient with head and neck cancer. J Otolaryngol Head Neck Surg. 2016 Mar 24;45(1):20.
Heaton CM, Yu K, Calkins S, George JR, Ryan WR, Wang SJ. Clinicopathologic characteristics and outcomes of recurrent oropharyngeal squamous cell carcinoma. Am J Otolaryngol. 2016 Nov - Dec;37(6):513-516.