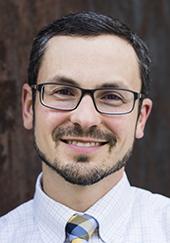 Jonathan H. Esensten, MD, PhD
Medical Director, Blood Bank and Transfusion Service, Zuckerberg San Francisco General Hospital & Trauma Center
Laboratory Medicine
Specialty Areas
Cellular Therapy
Transfusion Medicine and Blood Banking
UCSF
Laboratory Medicine, Box 2240
1700 4th Street, MC 2540, Byers Hall Room 409
San Francisco, CA 94143
United States
Hospital Affiliations
Zuckerberg San Francisco General Hospital
Other UCSF Organizational Association(s)
Leukemia and Lymphoma Society Fellow, Wendell Lim Lab
Co-Director, Regulatory T Cell Manufacturing Group
Medical Director, HICTF and GMP Facility
Attending Physician, Clinical Laboratory, Zuckerberg San Francisco General Hospital & Trauma Center
Research and Clinical Interests
Dr. Jonathan Esensten is a Leukemia and Lymphoma Society Fellow in the laboratory of Dr. Wendell Lim. His research is focused the development of synthetic and chemical biology approaches for T cell therapeutics. He is co-director of the clinical Regulatory T Cell Manufacturing Group. He is also Medical Director of the UCSF HICTF and GMP Facility, which manufactures regulatory T cell products for clinical trials, among other cell therapy activities. He completed residency in clinical pathology and fellowship in transfusion medicine and blood banking at UCSF.
Selected Publications
Esensten JH, Bluestone JA, Lim WA. Engineering Therapeutic T Cells: From Synthetic Biology to Clinical Trials. Annu Rev Pathol. 2017 Jan 24;12:305-330. doi: 10.1146/annurev-pathol-052016-100304. Epub 2016 Dec 5. Review. PubMed PMID: 27959633; PubMed Central PMCID: PMC5557092.
Esensten JH, Helou YA, Chopra G, Weiss A, Bluestone JA. CD28 Costimulation: From Mechanism to Therapy. Immunity. 2016 May 17;44(5):973-88. doi: 10.1016/j.immuni.2016.04.020. Review. PubMed PMID: 27192564; PubMed Central PMCID: PMC4932896.
McCleland ML, Soukup TM, Liu SD, Esensten JH, de Sousa e Melo F, Yaylaoglu M, Warming S, Roose-Girma M, Firestein R. Cdk8 deletion in the Apc(Min) murine tumour model represses EZH2 activity and accelerates tumourigenesis. J Pathol. 2015 Dec;237(4):508-19. doi: 10.1002/path.4596. Epub 2015 Sep 24. PubMed PMID: 26235356.
Wiita AP, Hsu GW, Lu CM, Esensten JH, Wells JA. Circulating proteolytic signatures of chemotherapy-induced cell death in humans discovered by N-terminal labeling. Proc Natl Acad Sci U S A. 2014 May 27;111(21):7594-9. doi: 10.1073/pnas.1405987111. Epub 2014 May 12. PubMed PMID: 24821784; PubMed Central PMCID: PMC4040605.
Martinez-Llordella M, Esensten JH, Bailey-Bucktrout SL, Lipsky RH, Marini A, Chen J, Mughal M, Mattson MP, Taub DD, Bluestone JA. CD28-inducible transcription factor DEC1 is required for efficient autoreactive CD4+ T cell response. J Exp Med. 2013 Jul 29;210(8):1603-19. doi: 10.1084/jem.20122387. Epub 2013 Jul 22. PubMed PMID: 23878307; PubMed Central PMCID: PMC3727315.
Awards
2016 Leukemia & Lymphoma Society Fellow Leukemia & Lymphoma Society
2013 Krevans Award in Laboratory Medicine San Francisco General Hospital
2012 Alpha Omega Alpha Honor Society University of California, San Francisco