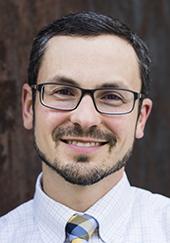 Jonathan H. Esensten, MD, PhD
Cell and gene therapy development and manufacturing
Laboratory Medicine
Specialty Areas
Cellular Therapy
Transfusion Medicine and Blood Banking
UCSF
Laboratory Medicine
513 Parnassus Avenue, Room S577
San Francisco, CA 94143
United States
Hospital Affiliations
Zuckerberg San Francisco General Hospital
Other UCSF Organizational Association(s)
Affiliate investigator, Gladstone Institutes
Member, UCSF Regulatory T Cell Manufacturing Group
Associate Medical Director, HICTF and GMP Facility
Associate Program Director, Herbert Perkins Cellular Therapy and Transfusion Medicine Fellowship
Attending physician, Clinical Laboratory, Zuckerberg San Francisco General Hospital
Research and Clinical Interests
Dr. Esensten's research is focused on the development and manufacturing of cell and gene therapies to treat autoimmune diseases and cancer. He has directed the development and manufacturing of multiple cell and gene therapies for Phase I clinical trials. He has expertise in closed and automated bioreactor systems, quality control assay development, quality assurance for Current Good Manufacturing Practice (cGMP) manufacturing, and regulatory interactions with the US Food and Drug Administration.
Dr. Esensten completed his bachelor's degree at Harvard University, and a combined MD and PhD in immunology at UCSF. He was a Leukemia & Lymphoma Society fellow from 2016 to 2019.
Currently he serves as director of the Advanced Biotherapy Center at Sheba Medical Center, Israel.
Selected Publications
Balcerek J, Shy BR, Putnam AL, Masiello LM, Lares A, Dekovic F, Acevedo L, Lee MR, Nguyen V, Liu W, Paruthiyil S, Xu J, Leinbach AS, Bluestone JA, Tang Q, Esensten JH. Polyclonal Regulatory T Cell Manufacturing Under cGMP: A Decade of Experience. Front Immunol. 2021; 12:744763. PMID: 34867967. PMCID: PMC8636860
Balcerek J, Trejo E, Levine K; Couey P, Kornberg Z, Rogine C, Young C, Li, PJ, Shy BR, Taylor JE, Bakhtary S, Friedlander T, Lynch K, Bern C, Esensten JH. Hospital-Based Donor Recruitment and Pre-Donation Serologic Testing for COVID-19 Convalescent Plasma. Am J Clin Pathol. 2021 Jan 5:aqaa268. doi: 10.1093/ajcp/aqaa268. Online ahead of print. PMID: 33399201
Esensten JH, Muller YD, Bluestone JA, Tang Q. Regulatory T cell therapy for autoimmune and autoinflammatory diseases: the next frontier. J Allergy Clin Immunol. 2018 Oct 24. PMID: 30367909
Awards
2016 Leukemia & Lymphoma Society Fellow Leukemia & Lymphoma Society
2013 Krevans Award in Laboratory Medicine San Francisco General Hospital
2012 Alpha Omega Alpha Honor Society University of California, San Francisco