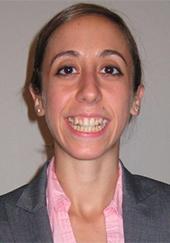 Gabrielle Rizzuto, MD, PhD
Assistant Adjunct Professor
Pathology
Specialty Areas
Perinatal [placental and fetal] Pathology
UCSF
Erlebacher Lab
513 Parnassus Avenue, Room S-1058
San Francisco, CA 94143
United States
Hospital Affiliations
Zuckerberg San Francisco General Hospital
Research and Clinical Interests
I conduct basic research in immunology and hold limited clinical responsibilities in Perinatal Anatomic Pathology. As an immunologist, I am most fascinated by studying classical sites of "immune privilege", such as tumors and the maternal-fetal interface. As a pathologist, my clinical interest is the placenta, a fascinating yet shockingly enigmatic organ. My current post-doctoral research seeks to elucidate mechanisms that prevent maternal immune activation agains the "foreign" fetus and placenta. I expect that such efforts will significantly expand the current understanding of how the maternal immune system is modulated during pregnancy. My long-term goal is to use these discoveries to better understand the immune pathogenesis of pregnancy complications and to develop novel therapeutics for application in transplantation, tumor immunology, and autoimmunity.
Selected Publications
Rizzuto GA, Merghoub T, Hirschhorn-Cymerman D, Liu C, Lesokhin AM, Sahawneh D, Zhong H, Panageas KS, Perales M-A, Altan-Bonnet G, Wolchok JD, Houghton AN. 2009. Self-antigen specific CD8+ T cell precursor frequency determines the quality of the antitumor immune response. J Exp Med. 206(4): 849-66. PMID: 19332877.
Faralla C*, Rizzuto GA*, Lowe DE, Kim B, Cooke C, Shiow LR, Bakardjiev AI. 2016. InlP – a new virulence factor with strong placental tropism. Infect Immun. 84(12): 3584-3596. PMID: 27736782.
Rizzuto GA, Tagliani E, Manandhar P, Erlebacher A, Bakardjiev AI. 2017. Limited colonization undermined by inadequate early immune responses define the dynamics of decidual listeriosis. Infect. Immun. EPub ahead of print 2017 May 15. PMID: 28507070.
Kakuru A, Jagannathan P, Muhindo MK, Natureeba P, Awori P, Nakalembe M, Opira B, Olwoch P, Ategeka J, Nayebare P, Clark TD, Feeney ME, Charlebois ED, Rizzuto G, Muehlenbachs A, Havlir DV, Kamya MR, Dorsey G. Dihydroartemisinin-Piperaquine for the Prevention of Malaria in Pregnancy. N Engl J Med. 2016 Mar 10; 374(10):928-39. PMID: 26962728.
Nancy P, Siewiera J, Rizzuto G, Tagliani E, Osokine I, Manandhar P, Dolgalev I, Clementi C, Tsirigos A, Erlebacher A. H3K27me3 dynamics dictate evolving uterine states in pregnancy and parturition. J Clin Invest. 2018 Jan 02; 128(1):233-247. PMID: 29202469.
Awards
Alpha Omega Alpha (2004)
American Association of Immunology Trainee Award (2009)
Julius R Krevans Award for Clinical Excellence (ZSFGH, 2011)
Arthur Purdy Stout Society Surgical Pathology Study Grant (2011)
American Society for Clinical Pathology Resident Subspecialty Grant (2011)
NIH F32 Postdoctoral Fellowship (2013)
NIH K08 Fellowship (2018)