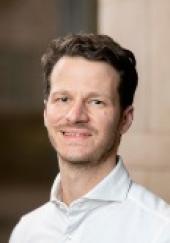 Christopher J. Schwartz, DO
Assistant Professor
Pathology
UCSF
Pathology, Box 4066
1825 4th Street, Room M2369
San Francisco, CA 94143
United States
Hospital Affiliations
UCSF Parnassus Heights
UCSF Mission Bay
Research and Clinical Interests
Breast pathology, hereditary breast cancer, genotype-phenotype correlations.
Selected Publications
Schwartz CJ, da Silva EM, Marra A, et al. Morphological and genomic characteristics of breast cancers occurring in individuals with Lynch Syndrome. Clin Cancer Res. Published online October 19, 2021:clincanres.2027.2021.
Schwartz CJ, Brogi E, Marra A, et al. The clinical behavior and genomic features of the so-called adenoid cystic carcinomas of the solid variant with basaloid features. Mod Pathol. Published online October 1, 2021.
Schwartz CJ, Pareja F, da Silva EM, et al. Histologic and genomic features of breast cancers with alterations affecting the SWI/SNF (Smarc) genes. Mod Pathol. 2021;34(10):1850-1859.
Schwartz CJ, Dolgalev I, Yoon E, et al. Microglandular adenosis is an advanced precursor breast lesion with evidence of molecular progression to matrix-producing metaplastic carcinoma. Hum Pathol. 2019; 85:65-71.
Awards
2021: 40 Under Forty 40, American Society of Clinical Pathologists